In a classic "why-didn't-I-think-of-that!" move, Portland-based Chirpify launched a new feature this week that allows people to monetize their Instagram feeds. Chirpify allows in-stream transactions by integrating with PayPal and taking 5% of each transaction. The payment platform allows people with Instagram accounts to collect payments for a physical object, or as a fundraiser.
Brands, organizations, and individuals can post an image using their Chirpify dashboard or from within Instagram. To collect payments when posting from the Instagram app, people can set the initial comment to "#InstaSale $amount". This triggers the Chirpify platform to automatically create a listing. Buyers can pay by commenting back with the word "buy". Fundraising works the same way, but fundraisers need to set the initial comment to #InstaFund $amount, and funders must reply with "donate".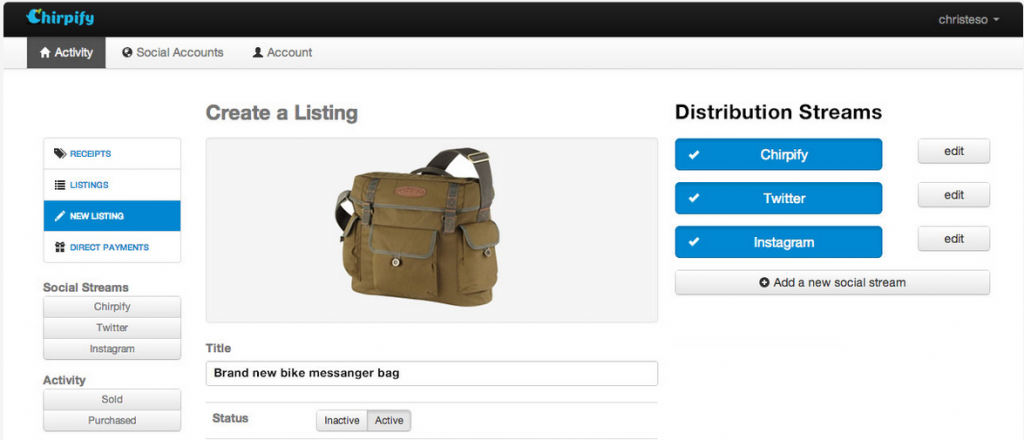 Chirpify was founded in the summer of 2011 as a way to turn tweets into transactions. Now that the company has expanded its product reach to include Instagram photos, major brands and celebrities like Bogs, tattoo artist Kat Von D, actress and singer Kat Graham, and KEEN are using Chirpify for monetization opportunities as well.
The company raised $1.3 million in venture funding earlier this spring from Voyager Capital, Geoff Entress, Andy Liu, Rudy Gadre and Ryan Holmes. CEO Chris Teso was formerly the a co-Founder and Creative Director at The Good, a Portland-based digital agency that works with outdoor and athletic brands.
This announcement is a huge win for both all parties involved – consumers, sellers, and Chirpify. The number of brands that rely on visual marketing like fashion and art are already posting images of items for sale, so Chirpify is entering into a space that is already optimized for immediate mobile transactions.