Polaroid, the original company behind the square photography of yesteryear, has thrown its hat into the mobile photo sharing ring. The company's new app, Polamatic, is available for download now on iOS devices – its release an undeniable move to cash in on the recent success of retro photo sharing applications like Instagram, which have utilized the texture of Polaroid's instant-film cameras to create hip, vintage-looking photos.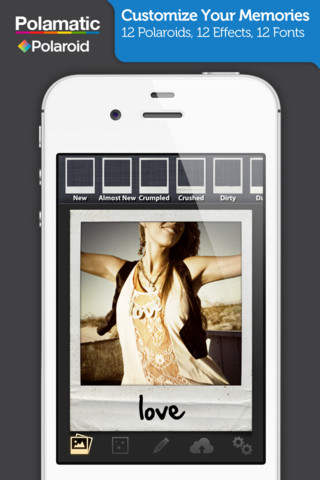 Polamatic features many of the same kind of filters you'd see in other popular photo sharing apps. For $0.99 Polaroid's app comes with 12 photo effects and 12 different frames, which can be customized with text in 12 different font styles (see a pattern forming here?). Once you've set up your picture with the effect, frame, and caption you want, the app allows you to share your Polaroid photo through any of your favorite social networks, much like other existing photo apps.
The company's press release notes that what sets Polamatic apart from the crowd is that its app includes "high quality scans of new, used, and vintage Polaroid Classic Border framers." Let's hope that's not the only feature giving the new app a leg up over other much more popular and well-established competition.
Probably the biggest thing Polamatic has against it is that while Instagram comes for the low, low price of nothing, Polaroid has decided to charge customers for its newest app. A measly dollar may not be a lot, but when you're trying to lure users away from a product that became famous based on your company's vintage design, you're only making it harder on yourself by charging more. Not only does Polaroid expect you to pay up front, but there are additional photo effects and vintage frames that can be unlocked within the app, each set of 12 for an additional charge.
Even though Polaroid can legitimately lay claim to the vintage square photos that have seen a resurgence in the mobile age, it seems to be too late in the game for them to grab many users with this one. Other than a desire to support the long running photography company or a serious dislike of Instagram, there's not much reason to download Polamatic.