Obligatory predictions about the features of Apple's iPhone 5 are circulating around the web, but the company has been tight-lipped about the existence of the next generation smartphone until recently. Apple is fighting for the iphone5.com domain, hinting that the name of next iPhone won't confuse Apple fans the way that the new iPad does.
According to domain registry lookup Whois, the owner of iphone5.com – which has been active since February 2008 – is anonymus, although the mailing address of the registrant is listed in Fortitude Valley, Australia.
Apple filed a complaint with the World Intellectual Property Organization (WIPO), which is the United Nations agency that handles intellectual property (IP) issues on a global scale. Cybersquatting is becoming an important part of IP protection strategy as global brands fight to control their name associations across multiple digital platforms.
Currently, iphone5.com hosts message boards with 383 members and a rudimentary user interface. The site is also monetized with ads, but overall traffic and engagement is low. According to web traffic estimator Site Analytics by Compete, iphone5.com has averaged 1,000 unique visitors per day since the beginning of 2012, with an all time high of 6,366 unique visitors in September 2011. Traffic is only up 1.19 percent for the month.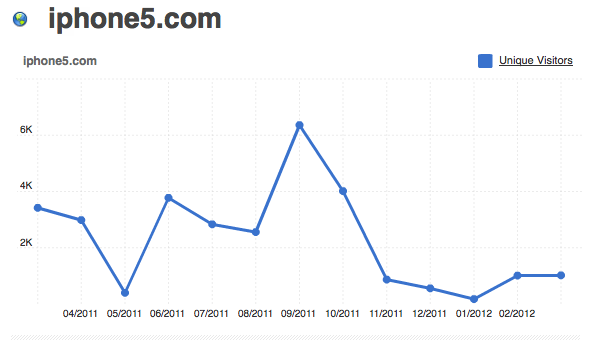 One vocal member of the site with the username ThunderCracker actually advocates for Apple on the site's message boards:
First of all, "iPhone" is a registered trademark of Apple. I'm sure many of users would like to type in "www.iphone5.com" and see that iPhone 5's picture shining in front of their eyes, instead of seeing a forum that's consisting of around 300-400 members, (and I'm sure more to come over publicity). When the iPhone 5 is out, your domain name will lose its loyalty and who will come here to get all the upcoming information about the iPhone 5? When Apple's website has enough information provided when it's out, this forum will be useless. I'm sure if you were Apple, you would want the same thing, you've had your time on the domain, now it's time to give it up.
Although some squatters may build up a site with minimal content and hope that Apple will buy the domain name close to product launch, Apple has recently shifted its domain acquisition strategy. The company has started turning to the Uniform Domain-Name Dispute-Resolution Policy (UDRP) to go after domains that they claim violate their IP rights.
No one knows if the next generation of Apple's smartphone will be called the iPhone 5, but the fight for this domain before the product release is getting Apple fans excited for the phone's rumored announcement this year.