A month ago, on the 20th of February, the White House brokered a deal that ended a work slowdown on the West Coast shipping ports, which, according to a Kurt Salmon report, cost the country $7B in 2016, and, if things would have escalated to a full stoppage, could have cost the country more than $2B a day, according to a National Retail Federation / National Association of Manufacturing report.
The agreement, which U.S. Labor Secretary Thomas Perez helped negotiate between the Pacific Maritime Association (PMA), which represents shipping lines and terminal operators, and the International Longshore and Warehouse Union (ILWU), which represents 20,000 dock workers, has allowed shipping operations to begin to return to normal, but the backlog will take several months longer to clear.
The longer-term impacts could be even more significant – as the industries most affected – from Agriculture, to Mining, to Dairy (and many more) – are looking for alternate shipping routes that would allow for them to hedge their risk in the future.
Because of the cascading affects of the slowdown, many businesses, large and small, looked to their elected officials to help put pressure on the two sides to find an agreement. State and Congressional representatives applied pressure, echoing the sentiments of their constituents.
The Consumer Electronics Association, which represents more than 2,000 members across the consumer electronics and technology industries, viewed the issue as a critical one to push towards resolution – so much so that they looked to connect their membership with elected officials to clearly communicate how important open ports are to American industry. When voices of business leaders echo and coincide with those of their employees, it makes a significant impression on elected officials, who want to hear from their constituents.
"CEA, with support from over 200,000 Innovation Movement members who help us advocate for smart tech policies and several key industry stakeholders, effectively shared the urgency of the West Coast ports crisis via social media, asking Congress and the White House to help keep our ports open for business," CEA CEO and President, Gary Shapiro, said.
"In just nine days, our diverse coalition of businesses, industries and tech enthusiasts across the country sent over 3,000 messages to every U.S. Senator and almost every Representative, as well as almost 900 emails directly to the White House. This activity was enabled by our member company Phone2Action's advocacy platform, which allows business leaders and everyday voters alike to connect with policymakers via email, Twitter and Facebook. As a result, everywhere policymakers turned online we were present with our messaging on the ports crisis – they couldn't ignore our call to action," Shapiro said.
On February 14th, Representative Reichert (WA – 8), an official who received a large volume of communications from constituents about the need to get the ports operating at full-steam again, issued this statement, underscoring his desire for the parties to find a solution:
"The situation at the West Coast Ports has reached a critical point and is impacting the economic health not just of the Pacific Northwest or even the West Coast, but the entire nation. After repeatedly raising this issue with the Administration and encouraging the President to take a more active role, I am pleased to see he is now taking steps to urge the ILWU and PMA to resolve their ongoing dispute and ?come to terms. We cannot afford to let our farmers, workers, and manufacturers continue to lose business and market share."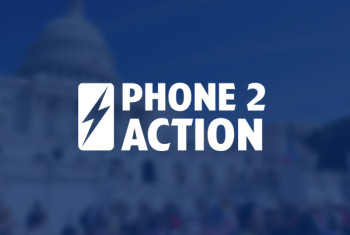 The Phone2Action founding team added their perspective on what makes digital advocacy effective in today's "always-on" environment.
"We create technology that makes the connections between constituents and elected officials seamless, so people can more easily get involved in the civic process. Increasingly, that means allowing people to communicate with their officials through the channels they are already using – social media, emails, and their phones. That's what people want today, and that's, ultimately, how people can play a role in the policy-making process," said Phone2Action Chief Technology Officer and cofounder, Patrick Stoddart.
Phone2Action cofounder and President Ximena Hartsock summed up CEA's campaign: "Elected officials want to hear from their constituents. The Consumer Electronics Association provided an outlet for employees and leaders of industries affected by the slowdown to directly communicate with their elected officials, using both social media and by sending emails. We are thrilled to power their campaigns, and the campaigns of many other great partners," Hartsock said.