The lightbulb of the future has made its retail debut today to celebrate the 42nd annual international Earth Day. The new LED bulb was created by Philips and won a 2011 contest held by the US Department of Energy.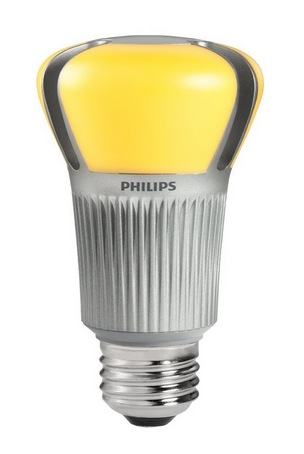 The contest began in 2007, where Philips was the only company to submit a prototype of any kind. After more than a year of testing the Dutch company was declared the winner, securing the $10 million grand prize last year. Ed Crawford, Head of U.S. Lighting Division at Philips, admitted that without the incentive of the government contest the technology would still be three to five years away.
Philips' new bulb comes with a rather hefty price tag of $50 a piece, but the LED lights are expected to last their owners on average more than 20 years. The company says that if the bulbs are used only three hours a day they can last up to a maximum of 27 years.
The LED bulb lasts about 30 times longer than current incandescent bulbs, using only 10 watts of power to produce the same amount of light as the average 60 watt bulb. Even when compared to efficient compact fluorescent bulbs Philips' LED light outshines them three times longer and offers a more natural looking light.
If you still think the price is a tad outrageous even after hearing about its long lifetime, you'll be glad to know that the company is planning to offer utility rebates that are expected to bring the price down around 50 percent. Even at $50 a piece, the bulbs are expected to save homeowners $165 over its 20 year lifespan.
Even if you're still not impressed by the new technology enough to invest in a whole new, expensive set for your home, the transition to LED or other more efficient bulbs will be an inevitable one. By 2014 the United States will enact a ban on all lightbulbs drawing power of 40 watts and higher.
Amazon.com currently has Philips' new LED bulb on sale for $22.99 each.
Just think about how weird it will be to bring along your fancy light bulbs in addition to all of your furniture and belongings next time you move.