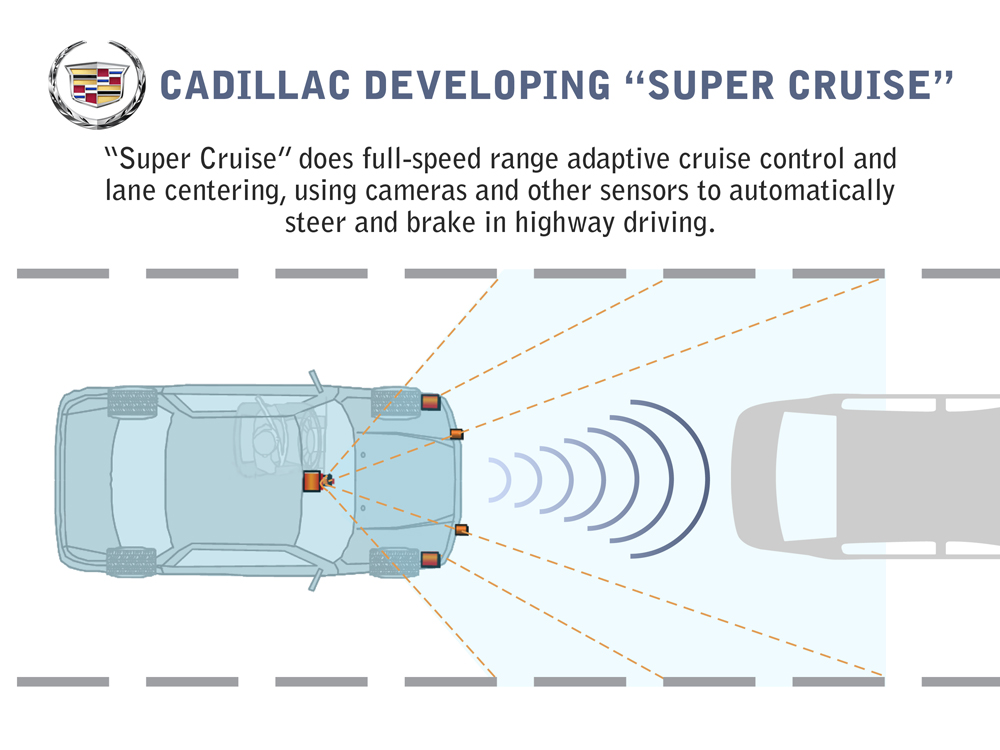 Cadillac has announced the development of autonomous driving technologies that are planned to be implemented into newer model Cadillacs within the next three years. It's calling the hands-free driving system "Super Cruise," which automatically steers, centers the car within its lane, and even brakes all on its own.
The system works using an array of sensors all around the vehicle. Super Cruise utilizes cameras, ultrasonic sensors, GPS, and radar to make sure your car is on the road and within a safe distance of other vehicles. Cadillac is specifically targeting monotonous freeway driving with the new technology, which the company believes will "improve driver performance and enjoyment."
Because the technology relies on condition-sensitive inputs like cameras and GPS for assessing upcoming turns in the road, the Super Cruise system, at least for now, is only semi-autonomous. Its creators want to make sure that the driver still has the ability to control the vehicle at any time, which will be necessary outside of freeway travel and in certain weather conditions.
[youtube id="up2YxLTPFqU" width="600″ height="350″]
A Cadillac press release points out that while the Super Cruise system is still forthcoming, many of the features it will use have already been implemented in current generation Cadillac models. "Building block" features of the new system like rear automatic breaking, which detects and stops collisions before they happen, and a lane departure warning are available in 2013 models of their luxury sedans.
John Capp of General Motors says the main goal of the new technology is safety.
In the coming years, autonomous driving systems paired with advanced safety systems could help eliminate the crash altogether by interceding on behalf of drivers before they're even aware of a hazardous situation. More than ever, consumers will be able to trust their car to do the right thing.
Currently Google is working on similar autonomous driving technology that uses many of the same methods of awareness as Cadillac's Super Cruise system. Last month a test of Google's new self-driving car enabled a blind man to safely make a trip to the grocery store and back.