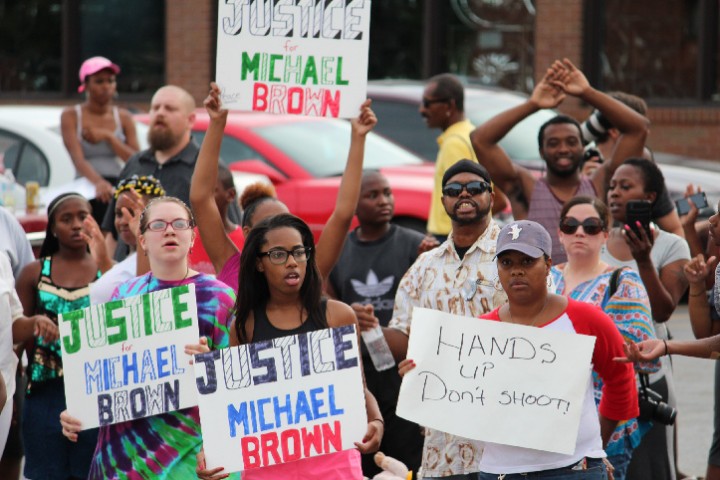 In the wake of Michael Brown being shot while unarmed in Ferguson, Missouri, protests and looting broke out resulting in the burning and total destruction of a 'Quik Trip' gas station/convenience store and varying degrees of damage to other local businesses.
In response, the police deployed in Ferguson in what has been criticized in press around the world as overly militarized. Tactical teams deployed with armored personnel carriers and fired on the protestors with rubber bullets and tear gas. Journalists were arrested and the scene grew increasingly tense.
Protestors in Ferguson Missouri in wake of Michael Brown Shooting from Techli TV on Vimeo.
As a result, Missouri Governor Jay Nixon relieved the St. Louis county police of control and placed the Missouri State Highway Patrol in charge under the command of Captain Ronald Johnson.
Just as in previous days, protestors lined the streets, holding candles in remembrance of Michael Brown and crowds chanted slogans such as, "Hands up, don't shoot" and, "Hey, Hey, ho, ho, these racist cops have got to go"
The major difference from previous nights was the lack of a police presence. I managed to find them staged a few miles down the road in a parking lot in case of serious trouble, but in the middle of the protests, none were to be found. As a result, there was a defiant, yet festive air in the streets as people held candles, talked and cars drove slowly through the streets blaring their horns in support of the protestors. It appeared to be catharsis through peaceful protest. Traffic moved at a snail's pace as the street was filled with both autos and people.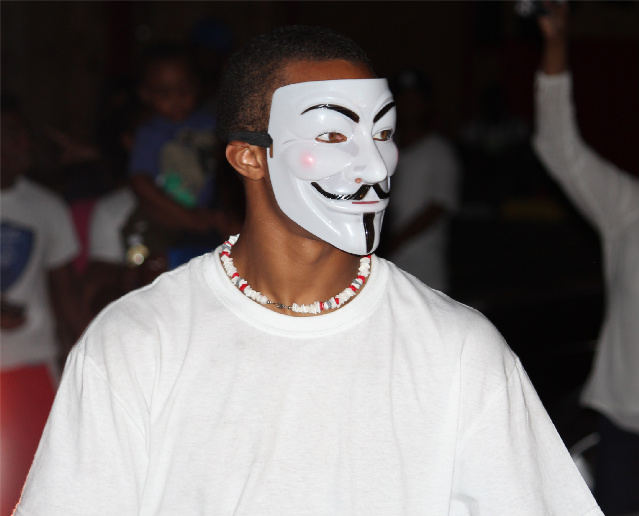 As the night wore on, Missouri Highway Patrol Captain Ronald Johnson and St. Louis County Police Chief Jon Belmar came down into the midst of the protestors to walk and talk to people. The main difference from previous nights was the two officers were dressed in normal police uniforms and no officers in tactical assault gear were to be seen.
The crowd pressed in on them as they slowly made their progress through the crowds and the result was exactly what the authorities were going for under Captain Johnson's command: peaceful. Some troublemakers hurled insults but the overwhelming majority of the crowd seemed more interested in being heard and seeing that the police were not bearing down on them but were there to hear them.
CPT Ronald Johnson in Fergsuon, Missouri from Techli TV on Vimeo.
As Captain Johnson walked through the crowd, a motorized childrens' train of the type normally seen in shopping malls was coming down the road filled with young men protesting. Captain Johnson walked over, talked to the men, shook hands and all were smiling and laughing as they chatted. [Video, above]
Readers may be wondering why Techli, a startup news site, decided to cover Ferguson. We are headquartered in St. Louis and while we cover startup news all over, this is our home. Entrepreneurs tend to be civic minded- they are proud of the cities they live in and want them to thrive along with their businesses. We felt that a situation that was reverberating worldwide was worthy of being covered and felt we had an obligation as not only journalists but citizens living and working in this community.
With all the hyperbolic statements on social media and people making snap judgements based on rumor, we wanted to see what was happening ourselves, good or bad, and report on it objectively. Social media has undoubtedly played a part in spreading the news of Ferguson worldwide and it is having an impact as the President has weighed in and the world press descended on the suburb of some 20,000 people.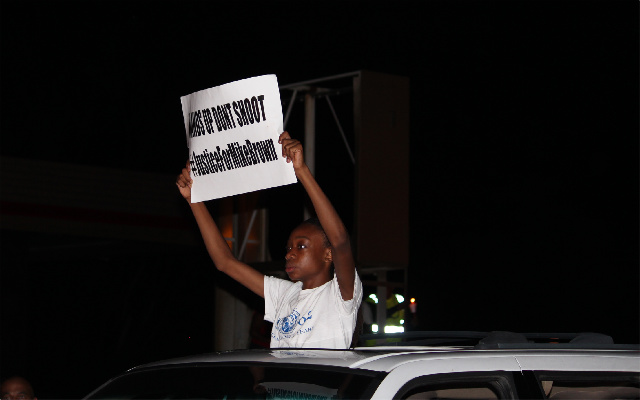 It was gratifying for me, as a reporter determined to not take sides and report what I saw, see people of multiple races all united in peaceful protest. There were passionate, peaceful protests and I did witness a few bad actors trying to cause trouble (maybe 3 or 4 all night) but the overwhelming majority just wanted to be heard. The streets were filled with thousands of people with no incident.
Far from being a 'run down ghetto' as I was reading on social media, Ferguson is a clean, tidy community and as I was pulling into a parking lot in the early evening, women walked past me on their way to a yoga studio. Hardly the crime ridden nightmare some were calling it online.
Putting police in tactical gear in the streets while training sniper rifles on people only serves to increase tensions and make people feel as through the police are their enemies and not their protectors. As evidenced by the steady leadership of Captain Johnson Thursday night, cool heads and smart, community focused policing appeared to be the right solution.
This is also important from a business perspective: St. Louis is a city on the rise, albeit one with some entrenched problems going back decades that the region is working through as civic minded entrepreneurs and citizens take on and tackle these problems while attempting to find solutions. As news comes out of Missouri, and St. Louis specifically, that casts a bad light on the community, we care.  Startups that relocated here (such as Techli and other Arch Grants recipients) still have the same message: St. Louis is a great place to locate your business.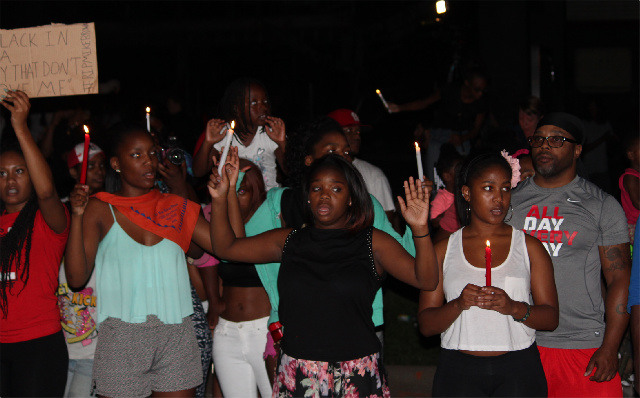 A last thought: As I stood on a street corner watching the cars full of young people blaring their car horns drive past slowly, I started chatting with an African American man. He said to me, "You know, look at this. I'm 52, and my son is 19. I told him to stay away from here tonight because I was worried he would get hurt. But after I thought about it, I was ashamed and realized I needed to be out here with him. This is our community and, look at this! People of all races, getting along, old people, young people, people with their kids and dogs. People just want to be heard, and want to feel safe in the neighborhood. We don't want the police terrorizing us. And now they backed off and everyone is happy and I haven't seen one act of trouble tonight."