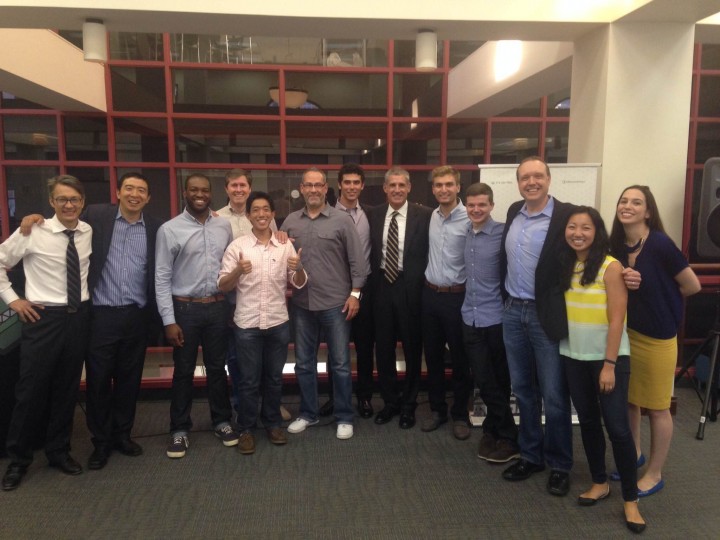 St. Louis' startup scene continues to boom, and several area startup ventures will soon receive a transfusion of talent.
Venture for America (VFA), which places top college graduates in startups and early-stage ventures, has entered the St. Louis startup scene, announcing Thursday the first set of fellows for the region.
Two fellows, Drake Berglund (Occidental '14) and Paul de Konkly (Williams '14), will both work for Boeing Ventures. Patrick Leonard (Harvard '14) will work for Gremln, Chisom Uche (Washington University in St. Louis '14) for TopOPPS and Ben Xue (Columbia '14) for Hatchbuck. The graduates were introduced by VFA CEO Andrew Yang at the Downtown T-Rex startup incubator on Thursday evening.
"We're excited to arrive in St. Louis and send our first group of talented fellows to join the community this year and beyond," Yang said in a statement. "We're so impressed with the entrepreneurial community that the St. Louis community has built and the enthusiasm of the entrepreneurs we've met in the city. We look forward to building on their momentum in the months and years to come."
The organization was founded in 2011 and is modeled after Teach for America. VFA's mission is to "revitalize American cities and communities through entrepreneurship, to enable our best and brightest to create new opportunities for themselves and others and to restore the culture of achievement to include value-creation, risk and reward, and the common good." They note that although many college graduates crave working for and building startups, these small companies often lack the resources to recruit talent like investment banks and management consultancies.
The fellows receive experience at leading-edge startup companies for two years. Following the stint, the nonprofit provides mentorship and capital to the fellows so they can launch companies of their own. The organization has set a goal of developing 100,000 new jobs by 2025 from graduates of the VFA program.
St. Louis is now one of 12 participating VFA cities and one of four – along with Miami, San Antonio and Columbus – introduced in 2014. The participating cities tend to be lower-cost and not the most sought after by elite college graduates.
The expansion into St. Louis was made possible by a grant from Barclays, according to VFA. Moreover, the group has also partnered with the St. Louis Regional Chamber, which provided an additional $10,000 to help place fellows in the city.