This month Chicago and San Francisco-based startup Paperlet unveiled a new interactive storytelling platform that enables writers to progressively share their work and grow an online readership by enhancing their texts with a variety of media content.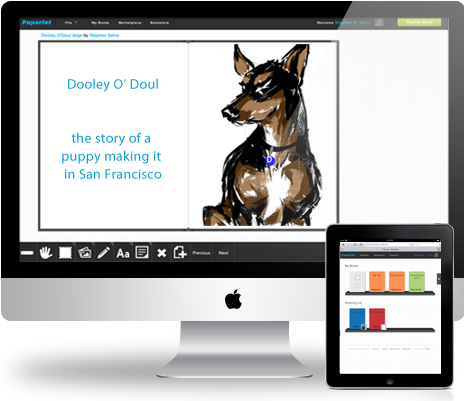 With the beta release of the new platform, Paperlet is looking to make reading in the age of eBooks a truly interactive, digital experience. Authors can add drawings or images, sound effects, and switch up the font and background. Paperlet aims to make reading a media rich experience for readers, and bring writers outside of the box when they think about presenting their content.
The service was created by Alvin Djunaedi and Stephen Saine, two former Yahoo! developers who met through the company's Sunnyvale office. Djunaedi commuted to the offices several times a month while still living in Chicago, and eventually left the company to begin pursuing Paperlet in 2011. Saine came onboard with the company as a co-founder during the summer of this year, and the pair have been building Paperlet together for the past six months.
Djunaedi came up with the idea for Paperlet while developing a media rich online journal for his wife. "He began to realize the sort of eBook revolution that was happening," explained Saine. "The Kindle and iPad, you see all of these media interactions… why not give the opportunity for writers to engage and give more interactive books?"
According to Saine, the service is focusing on writers who love to write but aren't sure if what they're working on will find an audience. "We want to provide a platform where people will feel good about uploading their stories," said Saine. "And once their community is there writers can get feedback quickly so they can improve their story and continue writing." Best of all, Paperlet stories can be easily exported in the popular epub format, so writers can begin selling their work through online stores without worrying about reformatting.
Paperlet is currently working on gauging how writers want to use the platform going forward. So far the creators have been seeing a lot of text-only documents popping up, which, Saine admits, is fine, though he pointed out that if writers want to get the most out of Paperlet they should be figuring out ways to enhance the story with all of the website's tools. "What we've been trying to do is build some example content," said Saine, who has been working on some tutorial texts to get new authors excited about creating media rich content.
For now the founders have raised a round of friends and family funding to use for marketing and Amazon Web Service bills. The company is looking to grow user engagement to gain traction and eventually work on building the market-side of the platform.
"For a writer that is in a closed room for a while, they might start to lose that creative passion," said Saine. "Paperlet gives them that ability to interact with their fans almost immediately… We think it's going to be a really fun platform for people to use."