Guatemalan designer Pedro Wunderlich has just unveiled the latest version of Wake N Shake, a merciless alarm clock app that can only be silenced through vigorous shaking. Since its release last year, the alarm clock app has been download more than 100,000 times, and in its latest redesign Wunderlich along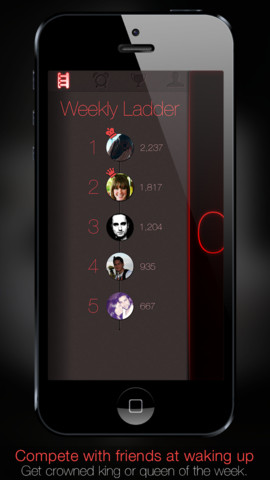 with co-founder and developer Andres Canella have made the fight more brutal than ever.
Wake N Shake's alarm can be set to a variety of different sounds and shake intensity levels, including teddy bear, milkshake, and piñata. Once the set alarm goes off the only way to stop the noise is to "shake the hell out of it," as the website explains.
On top of a UI overhaul, the latest version of Wake N Shake has introduced gamification and social features to the aggressive alarm clock. Wunderlich said the decision to update Wake N Shake came after taking in all of the great user feedback the team has received over the past year.
"We found out this alarm was more than just an alarm: helping people get out of bed helps them be more productive," said Wunderlich. "We constantly receive emails from users who tell us how much Wake N Shake pumps them up to get stuff done; it has become a motivational tool to get people to seize the day."
Based on the feedback Wunderlich and Canella have brought entirely new social features to the app, allowing users to compete with their friends over weekly wake up scores and earn achievements for successfully waking up on time for handful of consecutive days to a full month.
Over the summer, Wunderlich, along with his brother Mario, released their first iPhone game Count to a Billion. Much like Wake N Shake, the frenetic point scoring title pits users against their smartphones in a very physical way. Wunderlich said that from his experience developing both titles he's learned that the final product often ends up becoming something much different than his original idea, but that that's not always such a bad thing.
"Working on the idea is the best way to begin understanding its potential," said Wunderlich. "You pitch it to friends and investors and they give you feedback. You find out some things you didn't know and if you're paying attention you'll discover some neat opportunities to make the product better… the biggest lesson I've learned so far is, 'keep the vision, but be flexible with its execution.'"
The team is currently raising an angel round and working 16 hour days on the next big project. "Let's just say we're aiming to completely disrupt the instant messaging space," hinted Wunderlich.
The latest version of Wake N Shake can be downloaded from the iTunes App Store for $1.99, and the previous iteration is still available on Google Play for $1.00.