Remember feature phones? They were usually shaped like candy bars, and they didn't have the new-fangled touch screens, accelerometers and processing power that now characterize smartphones. But feature phones are still big sellers, especially in developing markets.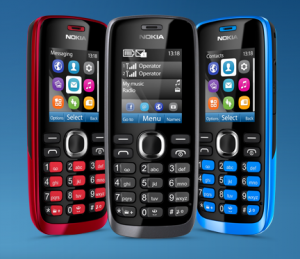 That's why Finnish phone manufacturer Nokia is trying to breathe new life into the non-smartphone handset market with a range of internet-enabled feature phones. In an press release issued on Tuesday, the company announced two new devices that eschew luxury but promise a rounded social experience, incorporating Facebook connectivity and gaming.
"Today's mobile phone users want a quick internet experience that allows them to discover great content and share it with their friends – but without being held back by high data costs," said Nokia vice president Mary McDowell, in a press release. "The new Nokia 110 and Nokia 112 devices combine browsing, social media, apps, world-class entertainment and long battery life to create a great package for young, urban consumers who want to do it all."
Brickish feature phones are a tough sell compared to sexy, multi-core offerings by Apple, Motorola and Nokia itself. But the company says affordable handsets and lightweight data plans are part of its "strategy to connect the next billion consumers to information and the internet."
Nokia is fighting back after losing its spot as top phone manufacturer worldwide to Samsung this year. The new phones come with optional dual-SIM card support, a niche that has gained popularity in the developing world among consumers who use one phone with multiple plans – and multiple phone numbers – for different purposes. The company also said data use would be minimized by compressing web content before it was sent out to the phone.
Only about half of handsets sold in the United States are smartphones. It's not clear whether Nokia plans to launch the new phones domestically as well.
Nokia also made headlines this week when it appeared that Apple modified the code of Siri, the iPhone's speech recognition and personal assistant app, so that when asked about the "best smartphone ever" it would no longer give details about Nokia's Lumia 900, a competing product. Siri now provides "a range of witty responses" to the same query.
Image: Nokia