Google TV isn't dead yet, at least according to manufacturer LG. The South Korean conglomerate is expected to demonstrate a new smart TV this week based on Google's beleaguered media platform .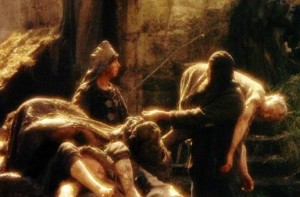 "LG Electronics USA is conducting live demonstrations of LG's highly anticipated Google TV models at Internet Week New York," reads a press release for the debut.
Though LG has drawn attention to the device's hardware prowess – it features an L9 ARM chipset, quad-core video and 3D capabilities – it's not clear what steps the company has made to differentiate the set from previous Google TV offerings that garnered lukewarm reception.
Content has been a problem for Google, which has struggled to win over cable and video providers to an online distribution model. Reviewers have criticized Google TV for shallow offerings in spite of a slick, Android-based interface.
At this point, the fact that LG – known for products as diverse as kitchen appliances and chemicals – has jumped enthusiastically on board could stave off the end for the platform.
"LG is excited to work with Google to bring Google services to TVs, making it easier for consumers to access a growing amount of content on the big screen," said LG Electronics CEO Havis Kwon, in a press release. "This all-new TV series reflects our work as a company to deliver the latest technologies to consumers so that they have an immersive and interactive home entertainment experience."
LG has hinted at an unusually full-featured interface on the device, which will incorporate a QWERTY keyboard as well as gesture and speech recognition. But no matter how friendly the user interface, the device will likely struggle to attract users if its content pool doesn't expand.
Google TV was hotly anticipated for years before its release – likely, in fact, longer than it was in active development. In one awkward incident, a hoax video purportedly showing how to activate a beta version of the service frustrated viewers in 2007, when it didn't work no matter how closely they followed the tortuous directions.
LG's Google TV debut could face fresh competition from Apple, which is working on a third generation of Apple TV, possibly with manufacturer Foxconn.
Differently sized versions of the set are expected to retail between $1,700 and $2,300, according to LG.
Image: Columbia Pictures