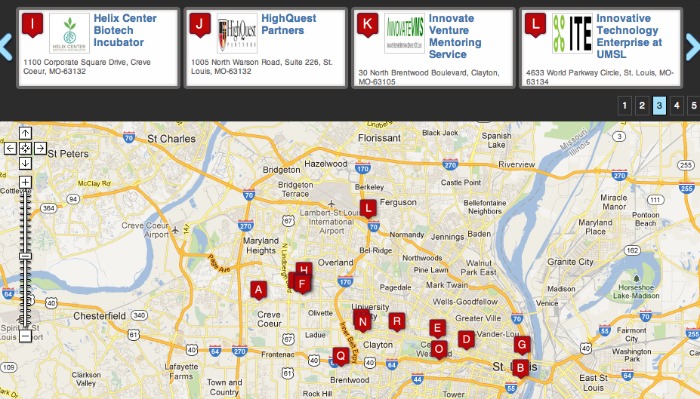 The general sentiment among players in the St. Louis technology scene is that it is growing, but still fragmented. Many new initiatives launched as public and private partnerships are seeking to organize the local technology ecosystem via web portals and aggregated profiles of companies, funding opportunities, and entrepreneurs. One unique approach to organizing the companies in St. Louis's vast biotech industry is the National Bio Map.
The National Bio Map was created by Kevin Haar Jr. as a way for companies and organizations in St. Louis's biotech industry to be easily discovered. According to Haar, the original idea evolved from a discussion about creating a map of a virtual world that would allow people to see different verticals in the community. Haar has partnered with major organizations within the community like the Helix Center and Washington University to launch an interactive map that allows people to find different players within the biotech industry according to categories like research specialty or type of organization.

One of Haar's primary motivations in creating the site is to attract both national attention to the city's thriving biotech industry and to help companies that are already in St. Louis to recognize the relationships that already exist between organizations. "For people who are looking to move here, the National Bio Map is important because it looks like an area that is organized," says Haar. "I want to have other companies know about the community here. The message is: don't send business overseas. You can find potential partnerships here".
Eventually, Haar would like to see the map embedded on the websites of major organizations that are featured on the map. While academic and biotech organizations can list for free on the site, Haar plans to monetize the map by offering a paid listing for an annual fee that would apply to startup service providers like intellectual property lawyers.