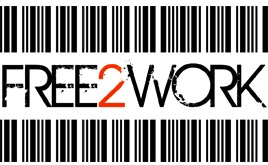 When buying a candy bar in the checkout aisle, or grabbing a coffee at Starbucks, do you ever stop to wonder, "Am I about to consume something produced by slave labor?" Unless you are aware of the 30,000 people in the global economy working against their will, probably not.
Apps like Free2Work 2.0 provide us with information about products that may carry a lot of secret baggage. Free2Work — founded by anti-slavery non-profit Not For Sale — is available for iPhone and Android. The app allows you to scan a barcode to analyze a potential purchase or browse brands to get a better feel for their company standards.
There are currently 10,000 products and 400 brands in the Free2Work database. Free2Work 2.0 debuted at last year's SF AppShow and was named one of the "11 Great Apps for 2011." The app rates companies and products on a scale from "A" to "F" based on a long list of standards established by Not For Sale. The criteria includes corporate structure, policies, transparency, child labor response, and much more.
"Every product has a story. And I know that I am not the only person who does not want to wear peoples' tragedy,"  founder and president of Not For Sale, Dave Batstone, told Al Jazeera. "I do not want to consume their suffering with my morning cup of coffee."
Right now, Free2Work focuses on jewelry, shoes, electronics, and certain foods that are known for being produced in unfair conditions. Early this year, Batstone visited Cambodia — a country known for its tragic history of genocide. Consequently, half of Cambodia's population is under twenty. Finding decent work for this young population is very difficult, and Cambodia has a terrible and extensive child trafficking ring. Not For Sale has partnered with a social enterprise garment factory to employ trafficking survivors and promote fair working conditions and pay.
According to CorpWatch, in 2005 there were 286,000 children between the ages of nine and twelve working on Ivory Coast in cocoa farms alone. Twelve thousand of those children most likely arrived as a result of child trafficking. Most of us live in a world far removed from the very beginning of the product and food channels, but shopping locally and being conscious of what you buy can make a huge difference.
Free2Work App 2.0 from Not For Sale Campaign on Vimeo.