At its E3 press conference today, Microsoft unveiled a recently-rumored mobile integration service for the Xbox called SmartGlass. The service was hinted at in a blog post last week by Xbox CMO Yusuf Medhi, who said that the company would be expanding television entertainment onto mobile devices.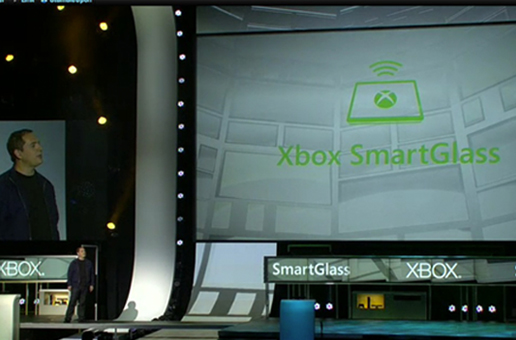 SmartGlass is a new service that pairs your tablet or smartphone with the Xbox to provide additional information about whatever content you're viewing, be it movies or video games. Marc Whitten, head of Xbox Live, came onstage to demo the service, which will be available for Windows, Android, and Apple devices.
One example from the demo paired Game of Thrones played in the Xbox's HBO Go app with a tablet, which gave detailed information about where characters and events were taking place across a map of the fictional world of Westeros.
"With Xbox SmartGlass we're opening new doors for producers, artists, and creators to develop far more than single screen TV experiences," said Whitten.
In terms of gaming SmartGlass will allow game makers to create interactive second screen apps for all kinds of titles. Whitten showed off a playmaker app for Madden that additionally functions as a touch controller for making accurate passes. For the upcoming Halo title a Waypoint app will provide information like single player maps and multiplayer statistics.
SmartGlass will also allow any mobile device to become a handy remote for the Xbox itself. Whitten revealed that Internet Explorer will be coming to the console, which on top of having Kinect voice command integration can be fully controlled by a touch screen device.
Whitten also announced that the Xbox experience will make its way onto Windows 8 tablets and PCs, allowing users to play games, earn achievements, and download the same music and movies available on the Xbox console. The Xbox experience for Windows will also utilize SmartGlass, Whitten said.
Microsoft plans to release SmartGlass and Internet Explorer for Xbox in the Fall of this year.
Image credit: Spike TV