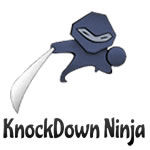 Milwaukee-Area startup KnockDown Ninja employees seem to have a flair for the dramatic: they are not simply looking to help you save a few bucks on tickets to popular events; they want to cut them down ninja-style. Owners Zach Gohr and Dan Voell have developed a 2-step process for encouraging people like you to share their interest in events with your social networks, thereby lowering the price for everyone in your social circle. Their most recent local deal forMilwaukee was focused on Festa Italiana, the Italian-focused ethnic festival atMilwaukee's Summerfest grounds. As stated, it's a two-step process that works like this:
1. Share your interests: KnockDown Ninja helps lower ticket prices for everyone in your social network simply by the number of shares, not the number of purchases. For example, by sharing the Festa Italiana event on your Facebook profile, you can lower the price for Festa Italiana tickets from $13 to $9 with a few more shares. The idea is to get the price low enough to where lots of people will want to buy!
2. Buy tickets: Once the tickets are "knocked down" you can score them for less and you have the direct link since you were the first one to post it. The word is that you don't have to be uber-popular to get the price down; you just have to be pals with people who like to share content.The biggest downside to KnockDown Ninja? If you wait too long, the knockdown-priced tickets will sell out, which could mean all of your friends will end up going, but you will be left to pay full price for any tickets left.
KnockDown Ninja is in Beta and only providing deals to Milwaukee, WI and Madison, WI as of this post, but they are looking to partner with venues all over the U.S. to expand their operation. I've found both of these young men to be cut from the entrepreneurial cloth, so definitely keep an eye out for KnockDown Ninja deals near you! For further info or to sign up, check out their site http://knockdownninja.com or email owers Dan Voell and Zach Gohr at [email protected]