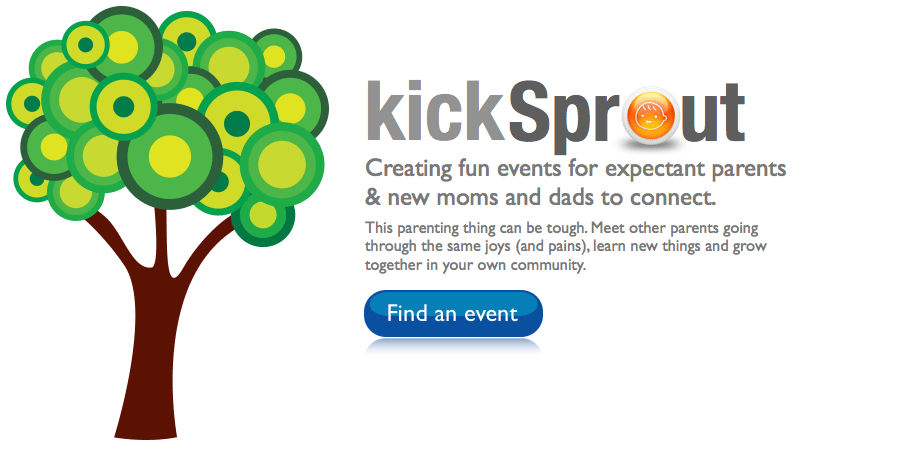 For some, the thought of bringing a child into this world is quite a daunting task. Luckily for new and expecting parents in Chicago, kickSprout offers a chance to meet others in the same new and exciting situation for support.
When founders Carlo and Leasa Navarro became parents to their daughter Grae, both had questions that needed answers and not a lot of people to turn to. So they founded kickSprout as means to reach out and get a community of parents together.
"We wanted to create something easier to get connected and also be able to get access to professionals in related fields and talk face to face rather than only have online source," said Leasa.
Carlo said the experience of becoming parents was a "rollercoaster" and they felt "completely lost as to what to expect."
kickSprout hosts a series of events varying from a monthly breastfeeding chat at a local, family-friendly coffee shop with a lactation consultant courtesy of Swedish Covenant Hospital to a three-part series on cloth diapers. The Navarro's are hoping to branch their events out into a wider mix of social gatherings and educational-based workshops. In addition, the couple wants to offer activities that will draw audiences like grandparents to events.
Since much of the information available is mom-focused, Carlo also hopes to create more dad-friendly events.
"There's an event we're looking to hold so dads can learn how to home brew," said Carlo. "Some may not be about education, but getting out and meeting other dads in the same life stage and get to feeling somewhat normal again. We want to do a barbecue on how to man a grill and be very guy focused just to get dads out."
New and expectant parents can sign up for kickSprout's monthly e-mail newsletter for upcoming events. Carlo said Facebook has been an important part in advertising as he and Leasa didn't want to overload member's inboxes. Events are held at local businesses and the average attendance is between 20 and 25 people, said Carlo.
Funding for kickSprout is coming from sponsorship and some ticketing of the events. Carlo has a day job and Leasa stays at home with their daughter. Some sort of giveaway always takes place at events, ranging from raffles to strollers and potties. As a means of keeping costs low, Carlo "sat down and learned hack job of designing and coding".
For the Navarro's, the most rewarding part of kickSprout is bringing people together. In the beginning of their parental journey, they didn't have anyone in their group of friends with children.
"If kickSprout goes away, those relationships will still be there," said Carlo. "It's cool to see at one point we didn't know anybody and now we have a really healthy group of people who have kids."
Leasa said they include expectant parents in their events as well to ease the transition into parenthood "to begin to form bonds before children arrive because you don't have any time in the first few weeks and months, but if you already know people it's easier."