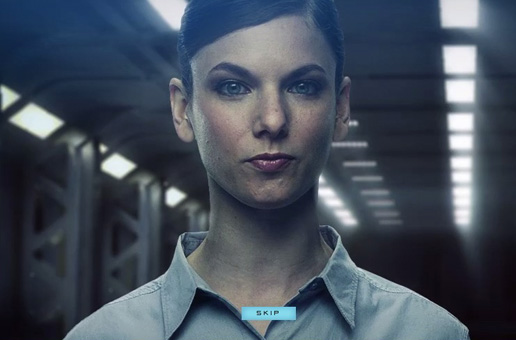 In yet another move to make the Internet Explorer brand hip and relevant, the team behind the long-running browser has partnered with Twentieth Century Fox to create an HTML5 website to promote anticipated summer sci-fi movie Prometheus.
"We know there are Prometheus fans that can't wait for the summer blockbuster release (those of us on the IE team included!), and we think the Training Center provides fans a fun way to jump into the world of Weyland Industries and Project Prometheus," wrote Ryan Gavin, Internet Explorer's general manager of business and marketing, in a blog post Wednesday.
The new website, titled the Project Prometheus Training Center, allows visitors to apply for a position on-board the inevitably ill-fated space mission by participating in a selection of games testing their physical, cognitive, and spatial relations abilities. The introduction video encourages applicants to use Internet Explorer for "an optimized testing experience and special advantages," which really just boils down to one additional, exclusive test.
Most of the "tests" are pretty basic mini-games, which award achievement badges and scores ranking the best 10 applicants each day. Probably the coolest thing about it is the texture of it all – like those fancy pre-ride videos you watch in line at an amusement park as your stomach tenses, prepared to be twisted into knots. In all it feels like a pretty competent promo for an anticipated summer film, as long as you can get past the heavy Internet Explorer branding everywhere.
Gavin pointed to this and other Internet Explorer projects, including browser based games and interactive music videos, as examples of the kind of advanced web experiences both IE 9 and HTML5 are capable of.
"Since the introduction of Internet Explorer 9, one of our big focuses on the IE team has been to create rich and compelling online experiences showcasing the power of HTML5," Gavin wrote. "Working with Fox on the Project Prometheus Training Center gave us the opportunity to build our interactive HTML5 content on top of the rich narrative from the Prometheus movie."
Prometheus is directed by Ridley Scott, the legendary filmmaker behind sci-fi masterpieces Alien and Blade Runner. After you've been successfully recruited and tested, be sure to check out the trailer to get fully pumped up for the film's blastoff on June 8th.