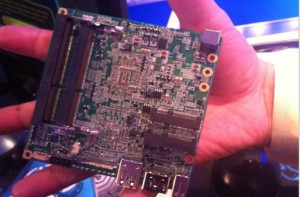 There's been speculation this week that an upcoming Intel motherboard form factor could be an attempt to edge into the ultra-affordable, smash hit Raspberry Pi computer. The device, which Intel is calling the Next Unit of Computing (NUC), measures about 4×4 inches, and will be available with a Core i3 or i5 processor (soldered in) HDMI support, Wi-Fi, and Bluetooth.
But will it really compete with the Raspberry Pi?
There does seem to be overlap in anticipated applications for the two devices, particularly in homebrew and interactive devices. Intel product marketing engineer Fred Birang told Just Press Start that they'd like to see the NUC, which he called "the size of a pop tart," see uses in digital signage, smart TVs, very small PCs, and interactive kiosks. Most pertinently, Birang stressed that they're interested to see what uses consumers invent for the device once it hits the market – a similar philosophy to that of the Raspberry Pi creators.
"This can be used, obviously, in a variety of usage models, you know, because of its size, and I'm sure that people are going to come out with a lot of more creative types of usage models for it," he said.
It's certainly unlikely the NUC will beat the Raspberry Pi on price, with the latter device selling (if you can wade through the thick pre-order process) for a piddling $35.00, with a $25.00 model in the works. But Birang did say he hoped the NUC would not be in the "hundreds or thousands range," suggesting the two devices would be in similar – if slightly lopsided – brackets.
It's also worth noting a tremendous difference between Intel and the Raspberry Pi Foundation: the latter is a charitable organization with an educational mission, while the former is a corporation. They both manufacture hardware, but the entire motivation is different.
Given all that, it seems likely Intel is thinking of the NUC more as a competitor to Cotton Candy, a USB stick-shaped computer with heftier specifications, and a slightly smaller form factor, than the Raspberry Pi.
The NUC isn't Intel's only recent foray into mobile markets. The company's processors appeared for the first time in mobile phones last week, and executives plan to push the company into becoming a "major player" in mobile tech within the next five years.
Image: Sweclockers.com