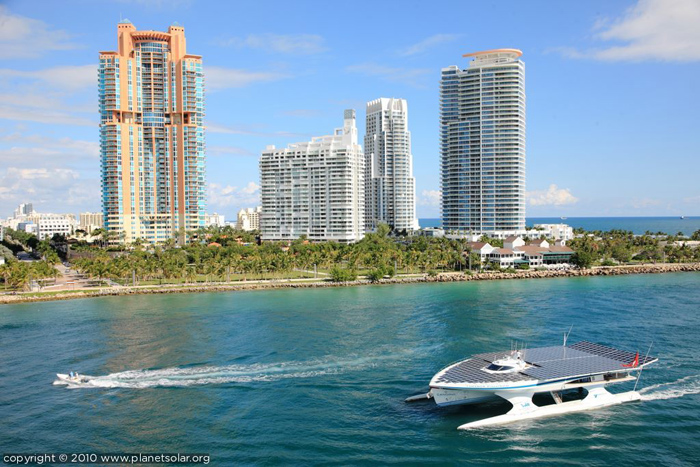 After almost two years of sailing entirely on solar power, PlanetSolar's Tûranor completed its voyage around the world on Friday. The ship, named after a word from J.R.R. Tolkien mythology meaning "power of the sun," left Monaco in September of 2010 and has become the first solar vehicle to circumnavigate the globe.
The Tûranor was designed by New Zealand naval architect Craig Loomes, whose revolutionary vessel holds the title of the largest solar powered ship in the world. The entirety of the ship's surface is covered in photovoltaic cells, in total 5,780 square feet feeding solar energy to six lithium-ion batteries below. The catamaran, which is estimated to have cost £12.5 million (or $16.3 million USD) to build, is capable of holding up to 40 passengers at a time and reach maximum speeds of 14 knots.
Its creators designed the ship to be capable of perpetual energy independence, allowing the vessel to continue traveling on stored solar energy. The ship's route around the world stuck close to the equator in order to maintain its stores of solar power, crossing the Indian, South Pacific, and North Atlantic Oceans before returning back to its home in the Mediterranean.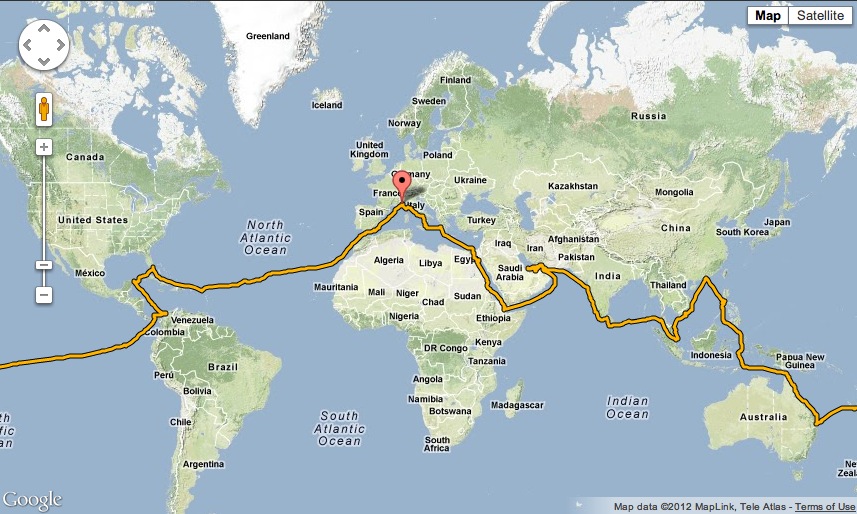 PlanetSolar's journey began with Raphaël Domjan, who founded the company along with M. Immo Ströher after being inspired by the novels of Jules Verne. Before creating the company and following his dream of sailing around the world the 39 year-old had worked as a paramedic, jet pilot, and mountain guide. Domjan, along with a team of four other people, were on board for the entirety of Tûranor's journey, with an on-shore team of eight monitoring their progress.
Domjan hopes the record breaking journey will bring attention to the importance of sustainable, green technologies like solar power. In their final log update, Domjan and the crew wrote:
We can see the last longitude line getting closer and closer. Behind this symbolic line lies the success of the first world tour with solar energy… It is really great, we made it… and above all, this success is a success for our planet, which we have to protect at all costs.
The boat is expected to spend its days following the epic journey as a luxury yacht. I hope those rich people enjoy a slow, steady twelve hour tour.
All images credit: PlanetSolar