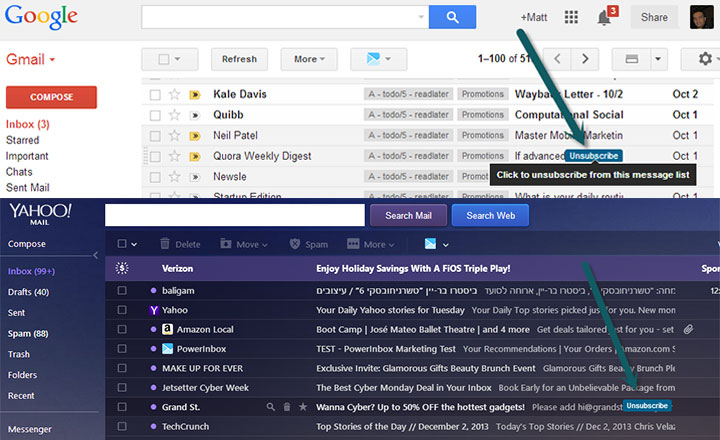 We've all been there.  You open your inbox, and you're inundated with marketing emails.  All that clutter can make it incredibly easy to miss the emails you actually need to read.  You know you should open the email and unsubscribe, but who wants to hunt for the tiny unsubscribe link buried in the email?
Don't worry.  There's a better way.  With RemoveMe, you can unsubscribe right from your inbox without even opening the email.  The team behind PowerInbox, the service that allows email to be interactive, created this handy tool, and you're going to love how easy it is to use.  Plus, it's free.  Who doesn't love free, right?
Are you ready for how easy this is?  Watch this 12 second demo video.
Why create this?  Well, it's really all about helping you…
"What's the simplest thing we can do here that will provide some value? And it turned out it provided a whole lot of value," said Matt Thazhmon of PowerInbox.  "We're all about making things better for the consumer, and we're always focused on innovation and pushing the envelope in email."
This tool definitely makes things better for the consumer.  Thanks PowerInbox!
RemoveMe is available for Gmail, Yahoo Mail and Hotmail in all modern browsers.  Click here to download it.  Once installed, you're ready to start organizing your inbox and work more efficiently. Now go, and get more done!