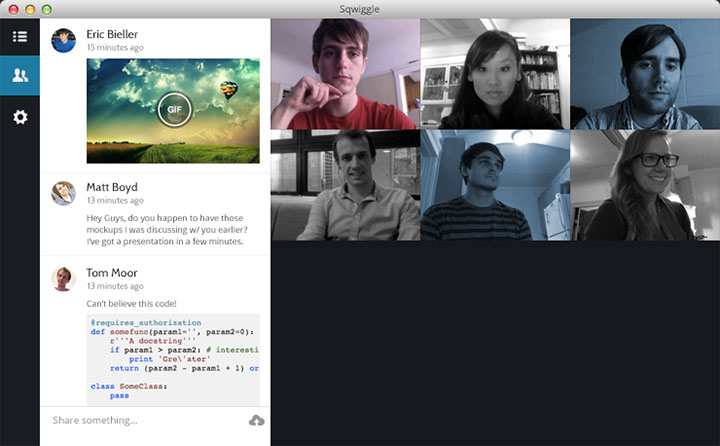 With all of the technology and social media surrounding us, it's really great to be able to connect with individuals outside of your city and stay in touch with those who move away.  But, what about applying this same technology to work?
Gone are the days when an individual absolutely must be at the office, and it's not uncommon for workers to be in different locations.  After all, the work doesn't stop just because you're not in the same city.  With Sqwiggle, you can make working remotely as close as possible to actually being in the same space, and last month they announced their service is free for small teams of three or less.
Essentially, Sqwiggle is a web service that brings together distributed teams, allowing you to connect visually through a web camera with "click-to-talk" conversations.
"It's hard to feel like you're really a part of something," explained Matt Boyd, co-founder of Sqwiggle.   "It's that lonely factor."  All three of the Sqwiggle co-founders experienced similar issues. Boyd, for example, used to be in a band that traveled regionally.  "[It was a] small, little, heavy metal band," laughed Boyd.  "I was a drummer.  It was a different time in my life.  [On tour] I used to work remotely. You can send an email, but it doesn't replace the tap on someone's shoulder, and [I] wanted to recreate that feeling."
When I talked with Boyd, he had been working in Southern Missouri, quite far from Sqwiggle's home-base, but that didn't stop him from getting work done.  He also explained a few advantages to the remote workforce, stating, "From a business standpoint, it's a good opportunity to hire someone from anywhere.  We have people from Indiana and Atlanta.  It's good to have access to a very large talent pool."
While it's free for teams of three or less, it's still affordable if you have a larger team at $9 per user, per month.  "There was a natural breakdown in our usage patterns, and we wanted to see a larger level of adoption in the startup community," commented Boyd on the price change.  "Those are the early adopters, and we don't want payment to be a showstopper for them.  That's where we started and where we see innovation.  Once they become larger, we'll grow with them, and it's good for all parties."
As for the future of this startup (they launched their first prototype in February of 2013), the Sqwiggle team is working on putting the final touches on their API, which will allow its users access to create all kinds of interesting things. You can find documentation on their website, even though it has yet to "officially" launch. Look for them to make this announcement soon – once most of the bugs have been worked out and it's running smoothly.
What do you think?  Would using a service like Sqwiggle help you work more efficiently outside the office?