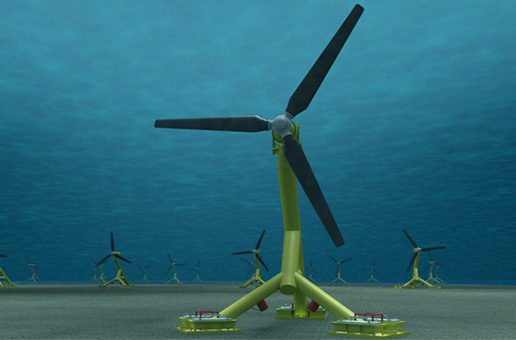 The Hammerfest Stram is a 100 foot high "turnkey tidal power station," designed to be anchored at the bottom of shallower waterways. An array of power stations can harnesses predictable, steady tidal currents to generate electricity. In comparison to a wind turbine, the underwater version features shorter blades that rotate much more slowly.
The video below demonstrates the installation process, where its base is lowered onto the ocean floor and weighted down by a set of anchors placed onto each leg. After the base is set up the turbine mechanism is finally lowered into a slot on top. This setup weighted setup diminishes the environmental impact of installing turbines on the ocean floor.
Andritz Hydro began testing a 300kW prototype in Kvalsund near its Hammerfest headquarters in Norway. According to the company's website, the site was chosen "due to its current velocity, water depth as well sheltered location." The turbine underwent testing in the location for six years.
A more recent pre-commercial test of a single turbine has just finished a run near the Scottish isle of Eday, according to PhysOrg. The successful test has solidified Scottish Power Renewables' plans to install an array of ten turbines in the Sound of Islay – a straight running between two islands off the west coast of Scotland. The site is ideal due to the steady 6.7 mph current speeds and natural shelter from powerful sea storms.
The new array will be the biggest renewable energy project of its kind, and become a large part of Scotland's goal of 80 percent renewable energy usage by 2020. Andritz Hyrdo's underwater turbines will create 10MW of energy in total, enough to double the local power grid. The reportedly $65 million project is expected to be completed by 2015.