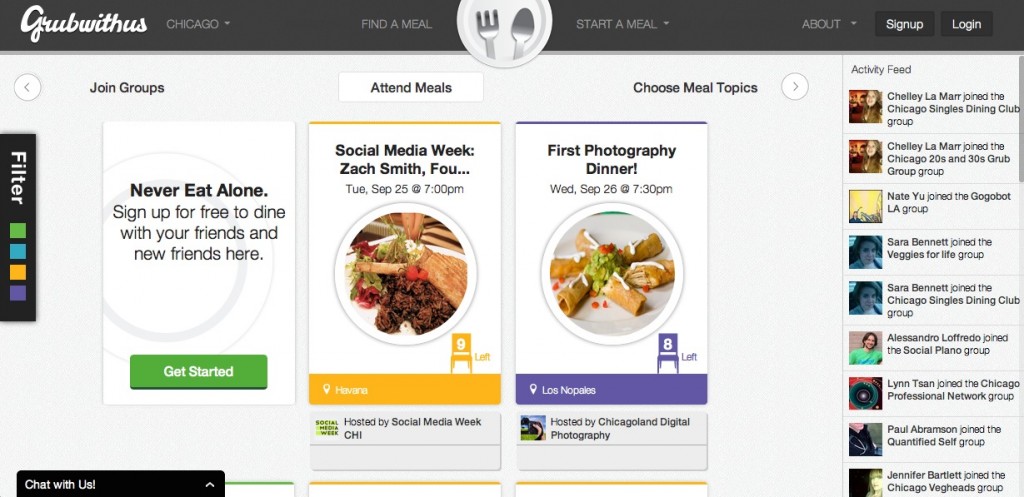 Social dining startup Grubwithus has undergone some changes over the weekend, including a revamped UI and a new topics section. Since 2010, Grubwithus has been improving its social network — a platform where anyone looking to meet new people can organize nightly gatherings in their area, focusing on good conversation over a delicious meal.
Grubwithus was founded by Eddy Lu and Daishin Sugano, two former Chicago residents who decided to create the platform following their frustrations with making new friends in the city. The pair designed the service to function as a way for post-college adults to make friends and socialize in a low-pressure environment, among a user base that all had a single goal in common.
Now based out of Venice, California, Grubwithus is hoping to improve the way its users come together in the real world with the introduction of a topics feature. Topics will allow Grubwithus users to share an idea, question, or trending news story with the community, opening an online discussion between users that can lead to real-life interaction.
If a topic receives enough attention in the community, Grubwithus will promote the topic into a meal, which will automatically include any of the users who participated in the discussion previously. Some topics currently brewing on Chicago's Grubwithus page include this year's Emmy-dominating TV show Modern Family and Korean pop hit "Gangnam Style."
"We see topics as the next iteration of Grubwithus because it allows our users to create their own unique experiences while also enabling them to more easily interact and engage with each other," said Grubwithus co-founder and CEO Eddy Lu. "Topics, along with our updated website, support and further our efforts to make everyone's post-college life easier."
Grubwithus has launched a brand new layout to compliment its latest feature addition, improving the commenting system, meal filtering, user profiles, and overall performance of the social dining website.
The service is continuing to expand to major cities across the US and internationally, so be sure to keep your eye on Grubwithus to find out about meals  taking place in your area.