Chicago startup GoSoapBox is stepping into the conference market this year, with a new platform called Conferences I/O helping attendees get their burning questions answered at events both big and small. The platform utilizes mobile devices to let students or conference-goers unobtrusively ask questions, and get them answered without the social pressure of standing out from the crowd.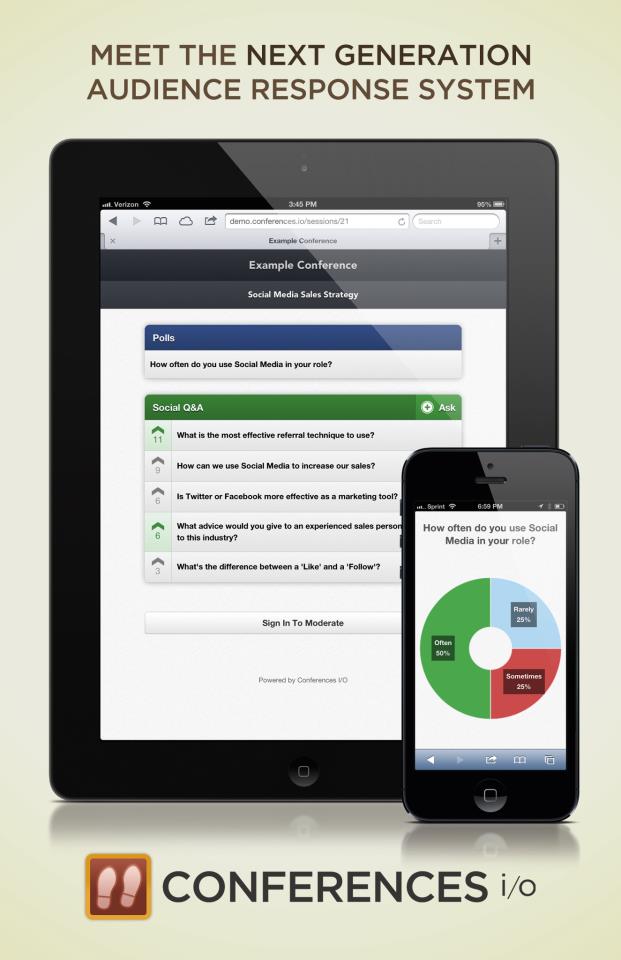 Until recently, GoSoapBox was primarily focused on helping students answer questions in the classroom. The company was founded by John Pytel and David Mulder, who attended Michigan State together and found themselves overwhelmed by the classrooms of 300 students. The pair thought there should be a better way for students to ask questions without disrupting an entire lecture hall, and went on to launch GoSoapBox during the Summer of 2011.
Though GoSoapBox still supports its original education platform, the company decided to make a shift in focus over to conferences after finding out that organizations were already using the original platform for business events.
"We got to the point where we started to realize that this might be a better fit," said Pytel. "We knew that the current GoSoapBox product worked, but to really offer this as a product on the market we need to kind of strip away the stuff we built for education; it kind of got in the way. We built out a new product that was specifically designed for that market… it has the same functionality but it's a better fit."
WIth its new Conferences I/O platform, GoSoapBox has an opportunity to replace some very archaic conference technology. Pytel explained that many business conferences spend a lot of time and money on hardware-based audience response systems, where thousands of clickers are given out to attendees to gauge their responses to polls during presentations. This equipment is generally rented by event organizers and shipped back to the companies, costing both time and money for events already on a tight budget. In the era of mobile devices, this kind of hardware can be replaced entirely with the simple software GoSoapBox can provide, and disrupting this market is the company's next big opportunity.
While the conference market may be GoSoapBox's new focus, the Chicago startup still has news on the education front. Pytel said that the company is about to close a site license deal with a major university where 42,000 students will have access to the GoSoapBox platform in the classroom.
According to Pytel, GoSoapBox will continue pursuing the leads it generated from participating in the ASAE Technology Conference in December, which utilized the Conferences I/O platform over the week-long event. "We're going to focus on hardcore sales and growing this conference side as much as possible," said Pytel.
Visit the company website to find out more about GoSoapBox and its latest Conferences I/O platform.