Chicago education startup GoSoapBox celebrates its first year this month with a whole slew of new stats to share with its users. GoSoapBox is a web platform that allows teachers to cultivate student engagement and find out what topics need to be strengthened before the next big exam.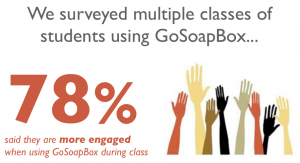 Teachers have long struggled with the passivity of students when it comes to seeking help in the classroom. A student may to be too shy, or too proud, to raise their hand and ask a question in front of their peers. GoSoapBox circumvents this problem by allowing students and teachers to connect on a web platform that can be utilized during class time to anonymously ask questions or quiz students on what they've learned so far.
Since its beta launch in October of last year, GoSoapBox has seen nearly 3,000 new accounts created on the education-based platform. After a successful five month-long beta, GoSoapBox held its official launch in February of this year. To date GoSoapBox has seen 1.2 million page views and more than 2,000 events created by its users. According to the update, students are spending an average of ten minutes using the platform each time they log in.
"It's been just over a year since we opened our beta for the first time, and it's amazing for us to look back to where we started, and where we are today," wrote co-founder and CEO John Pytel in a blog post. "We truly consider our users as part of our team and are so appreciative of all your support."
One of the company's biggest measures of success can be drawn directly from the users that have embraced GoSoapBox over the past year. According to the update, nearly 80 percent of students agreed that they felt more engaged when using GoSoapBox during class. Teachers are also loving the innovative service: 90 percent of the instructors using GoSoapBox said they would recommend the service to a friend or colleague.
GoSoapBox was nominated for an EduBlog award and the winner of the 2011 Lean Startup Challenge — a competition that tasks emerging companies with implementing lean startup ideology into their business model early on. Visit the GoSoapBox website to take a tour of the education platform.