Google introduced a number of new features to the Google Maps for Android this week, many with a commercial focus – and some smacking of services already available by social couponing site Groupon.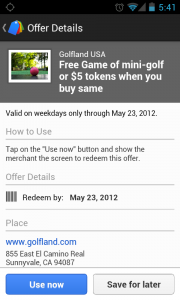 The Google Maps for Android 6.7 release introduces nearby deals, in a sort of cross between Groupon and Grindr, shopping-oriented indoor walking directions, and, notably, options for business owners who want to offer free promotional products.
"Some Google Offers can be purchased and saved for later while others are immediately available for free," reads an announcement. "You can also opt-in to receive notifications in the app when there are offers near you."
The success of the new features, especially the tools for free offers, will naturally depend on buy-in by businesses.
"Bring customers to your door ," reads a page targeted at business owners who want to enroll in Google Offers. "Your business benefits from increased awareness when customers find your offer on Google Maps for Android and other Google mobile apps. The offer can be used instantly, or saved for later."
Another new feature lets users upload panoramic shots, similar to Google Street View, of the interiors of stores and restaurants.
The Groupon model, which offers regional deals that can be purchased for a limited length of time and then saved for future use, has itself come under criticism for subjecting local businesses to unexpectedly massive hoards of new customers – or, in certain cases, for peddling worthless goods.
Google's management of Android was recently cast into the spotlight when AT&T CEO Randall Stephenson blamed the company for long delays before new versions of the mobile operating system is rolled out on the AT&T network.
"Google determines what platform gets the newest releases and when," Stephenson said. "Oftentimes, that's a negotiated arrangement and that's something we work at hard. We know that's important to our customers.
But Google rebuffed that claim in a statement pointing out that the company requires no negotiations before releasing updates – and that the latest version of the open source operating system is always available online for testing and development purposes.
Image: Google