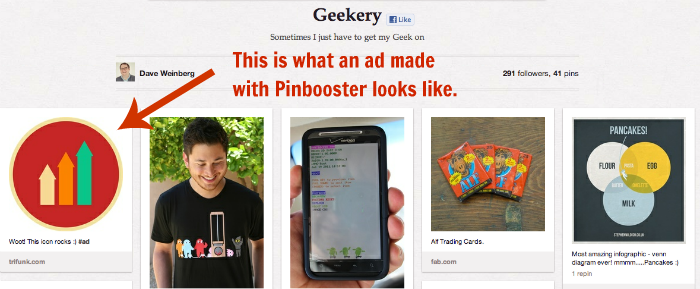 Pinning affiliate links to the social bookmarking site Pinterest is a great way get paid for doing almost nothing. Applying for and setting up an affiliate relationship with a brand however, is a pain. If you don't link to an affiliate, Pinterest will use SkimLinks to make money off your pin. What if you could bypass the affiliate system altogether and still get paid by the pin directly from brands?
Enter Pinbooster, which launched this week, the first advertising platform on Pinterest. Pinbooster is to Pinterest what Sponsored Tweets is to Twitter. In both cases, users are paid by the post to broadcast about a specific brand campaign.
Cofounders Dave Weinberg and Ariel Remer are old friends who are both excited about the possibilities that Pinterest introduces.
"You can share things on Facebook, but it goes away in the Timeline. When you share on Pinterest, it build upon itself." says Weinberg. He has 31 boards and 725 pins on his personal account.
After creating an account on Pinbooster, advertisers can create "offers" – which is similar to writing an ad for Facebook, Twitter, or Google. Pinbooster allows brands to customize the title, description, type of board for the pin to appear on, the link, and the image to be pinned.
Advertisers can also set a total budget for the pin, the maximum price per pin, the geographic location for the pin to appear in, and the minimum followers of the pinned. Once an advertiser creates an offer, Pinbooster finds qualified pinners and gives brands the ability to choose which pinners to email the offers to.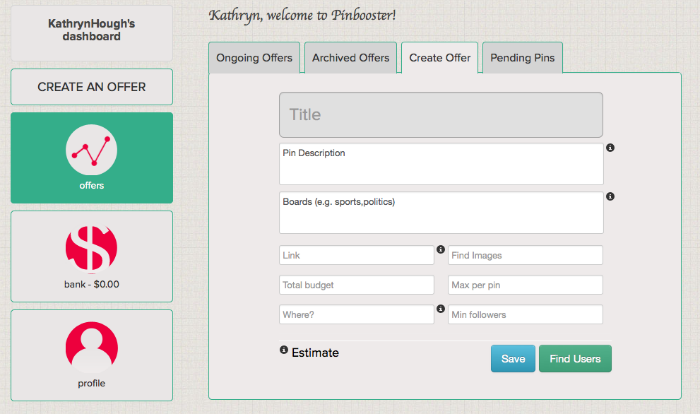 Once the pinner receives the offer, they can choose to accept or reject it. Those that accept it can either keep the suggested title and copy for the pin, or they can write their own. This is key, according to Weinberg, who is dedicated to keeping the platform trustworthy and based on genuine relationships.
"We want you to pin in your own voice. The trust value is higher. We hope you pin things that you think are great," he noted. The app then kicks the pin back to the advertiser, where they can look over the final pin before it goes live to make sure that it is "brand safe".
When it comes to the benefits of advertising on Pinterest, Weinberg focused on the differences between it and other social networks like Facebook or Twitter. "On Facebook, you get more likes and less shares. On Pinterest, you get less likes and more shares on a pin. A share is a better return on investment when it comes to paid advertising." when explaining the benefits of advertising on Pinterest.
Pinbooster is built to monetize right away. The company sends pinners a payment after taking a small transaction fee.
The debut of Pinbooster is a sign that companies are looking forward to the moneymaking opportunities that will be unleashed when the Pinterest API is released. Pinbooster operates without the API, but e-commerce sites like Etsy and Shopify are already preparing to get in on the action.