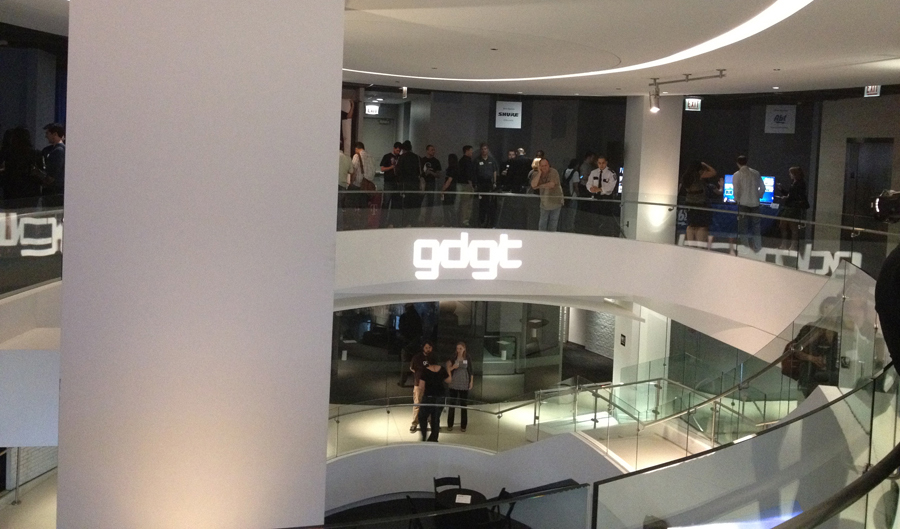 gdgt live kicked off its North American showcase on Friday night in downtown Chicago, offering a look at some of the newest gadgets and tech services from big name companies like Sony, Netgear, and Western Digital.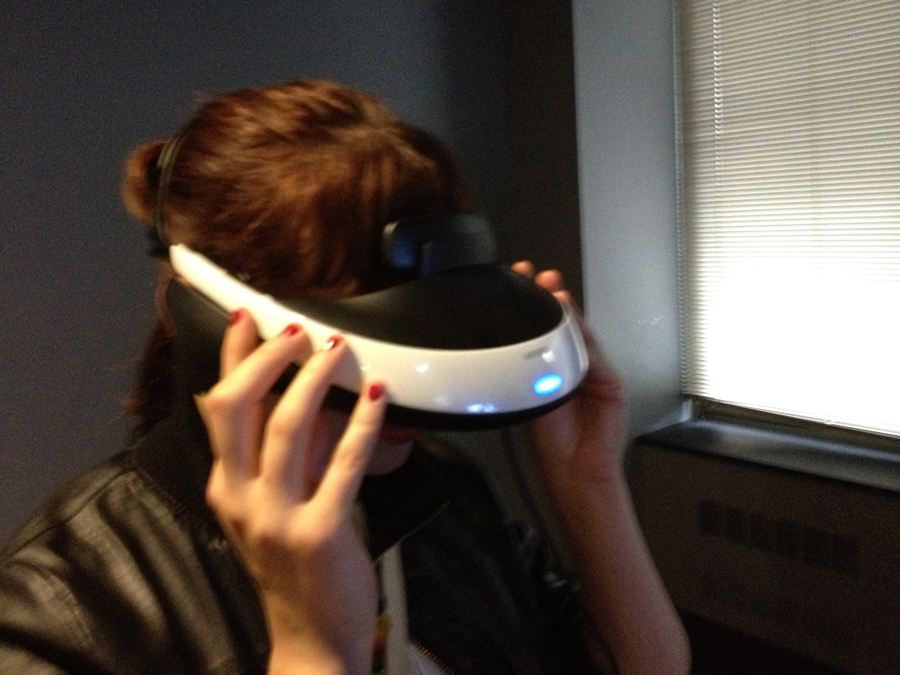 This year Sony was showcasing its newest personal 3D viewer, the HMZ-T1. The device looks a bit like those old school virtual reality headsets, though the picture inside is sharp and has quite a bit of depth. Sony had the HMZ-T1 connected to a PlayStation 3, playing a 3D Blu-Ray disc of Sports Illustrated Swimsuit models. The picture is meant to simulate viewing a large, theater-sized screen at a comfortable distance, and does so effectively. The personal 3D viewer is available now for $799.
Western Digital was showing off its Live TV Hub Media Center, which stores up to 1 terabyte of information and can stream an array of digital services directly to your HDTV. The server allows you to stream video to any streaming capable device within your home network, including Netflix, Hulu, YouTube, and Spotify, in addition to your personal pictures and videos.
Prolific mobile case maker Speck was a platinum sponsor at the event, showcasing the variety of unique cases they've been working on for tablets, smartphones, and e-reader devices of all sizes. One of the most interesting cases the company had on display was an iPhone gaming case that adds a little heft and controller-like grip to your smartphone. The case comes in two parts, where the slim everyday case can easily slide into the larger controller component when you need it for gaming comfort.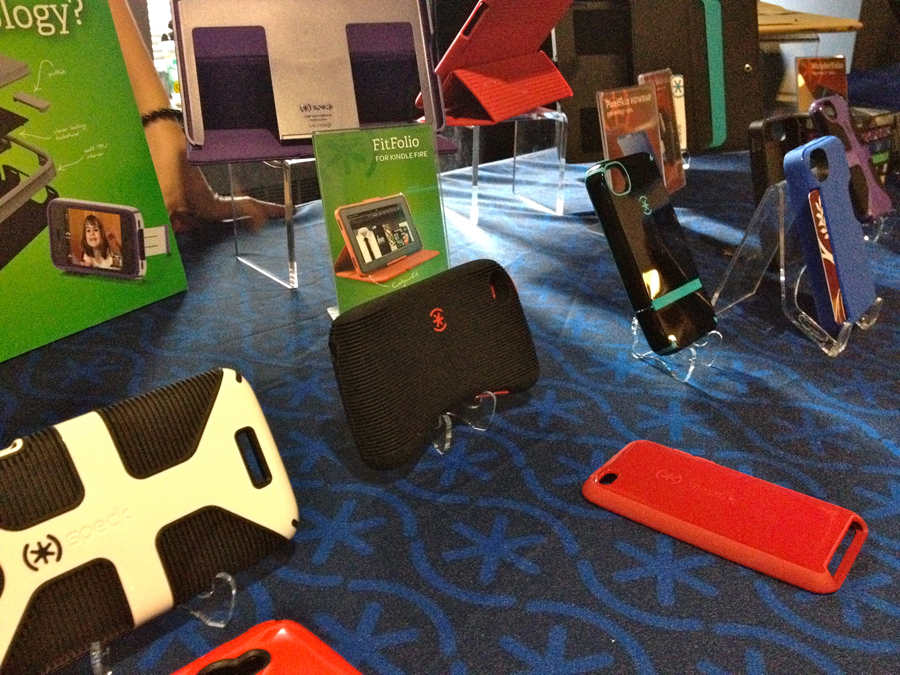 The Logitech table featured a new line of wireless color mice, along with an interesting solar-powered keyboard folio for the iPad. On top of providing a laptop-like setup for the tablet, the folio acts as both a case and a power source for the bluetooth keyboard inside. At full power, Logitech estimates that the keyboard could last up to two years without ever having to be charged.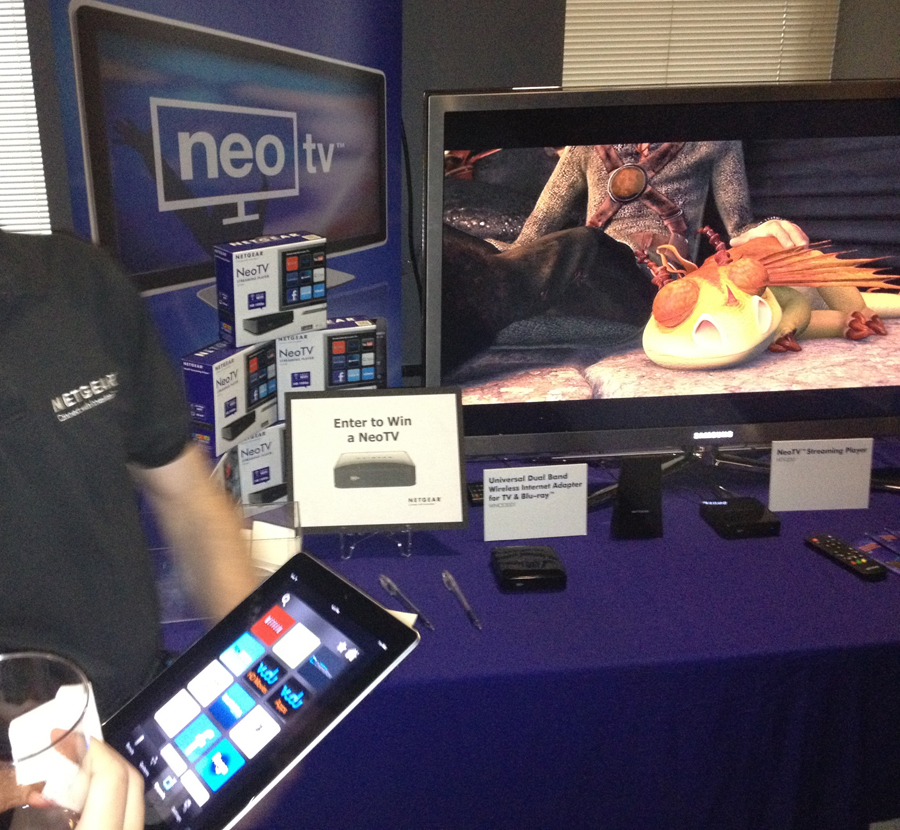 Netgear was another company into streaming video this year, showing its new and inexpensive NeoTV. The box streams the familiar services (Netflix, Hulu, YouTube), touting both built in Wi-Fi and a mobile remote app. The app is available for iOS and Android devices, eliminating the need for cumbersome remotes with limited functionality. A Netgear representative said the company is currently working hard at securing additional content like Amazon's Instant Video service.
SugarSync had a table promoting its mobile and desktop cloud storage service, which was named Best Cloud Service by Gizmodo last year, winning out over big name companies like Microsoft, Google, and Apple. Where most services schedule backups on a daily or weekly basis, SugarSync sets itself apart from the competition by synchronizing updates across all of your platforms any time a change is made to a file. Currently the service offers 5 GB of free storage to registered users, with paid plans reaching capacities of up to 2 terabytes.
Fellow Catapult resident Mentor Mob won gdgt's Startup Contest this year for its learning playlist service. The team was out in full colors on the floor to educate the gadget crowd about the innovative ideas behind their crowdsourced learning platform, featuring both academic and recreational playlists on topics ranging from baking to bike maintenance to cinematography.
gdgt live will make its way through New York, Seattle, Boston, and San Francisco by the end of the year, so be sure to check out the gdgt events website to find out specific dates for when the show will be closest to you.