Italian designer Antonio de Rosa has created an interesting looking camera designed to replicate Instagram's app logo. The camera concept integrates the mobile photo sharing service directly into the camera's OS, and even features a built in printer that spits out physical copies of your favorite images.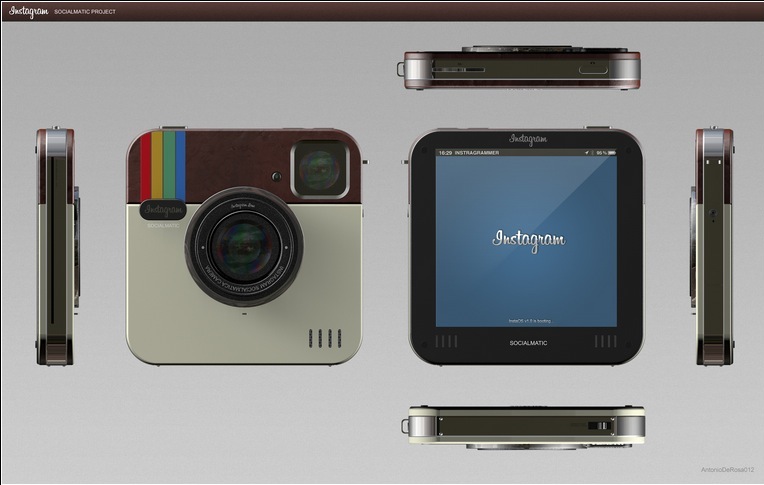 On his design website de Rosa explained that the recent Facebook acquisition is what drove him to begin work on the concept.
Since Facebook has bought Instagram for nearly a billion dollars in cash and stock, many users, bloggers, and economy experts have thought Instagram could build its first real photo camera.
The Socialmatic concept includes a few lofty specs for Instagram's first camera, which will feature 16 GB of internal storage, Wi-Fi and Bluetooth connectivity, a 4:3 rear touch screen, 2 lenses, optical zoom, LED flash, an internal printer with room for paper and 4 separate ink wells, all running on the "InstaOS," which will feature both Instagram and Facebook integration.
Photos printed by the camera will include a space below for written captions and a QR Code in the upper right corner that links back to the photographer's Instagram profile. The photos will even come with a peelable backing so you can stick your favorite photos anywhere you like.
The concept is pretty cool, even if the camera looks a little silly, but it seems unlikely that Instagram will get into the business of making their own cameras any time soon, if ever. But that's why de Rosa has launched an indiegogo campaign to get financial support for his dream camera concept. The Italian designer has so far collected $457 of his $50,000 goal, with nearly two months still left to go.
"I always had a real passion about Apple products and innovative way to imagine the communication. It's for this reason I'm a marketing and communication consultant and then a designer," de Rosa wrote in his indiegogo profile. "In my life art, music, songwriting and design are the main columns to build my future."
If de Rosa gets the funding he needs, he promises a "massive discount" to those who back the creation of the camera, which he expects to retail for under $350. "Instagram Socialmatic is only a concept," the designer admitted, "but maybe it could become real."