Galaxy Hub, a simple product that's aiming to turn any television into a smart TV, has kicked off a funding campaign on Indiegogo today. The Wi-Fi enabled device simply plugs into any television equipped with an HDMI input, and from there you can use apps, watch videos, and even browse the web, all on the big screen.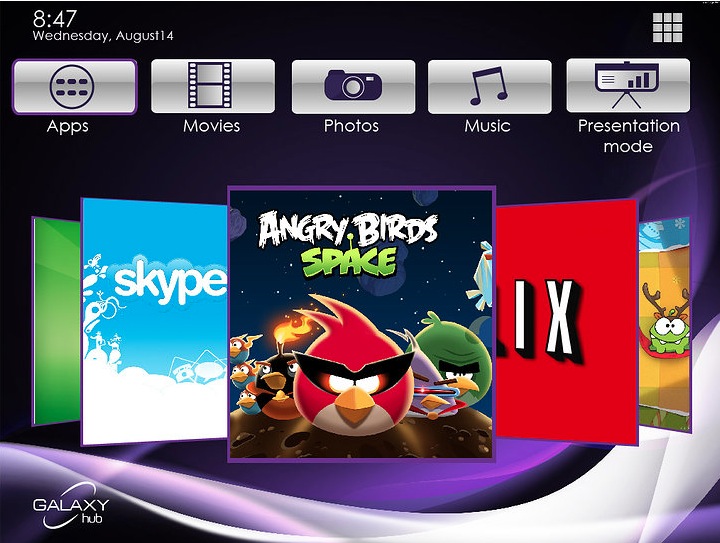 The concept for the device was created last year by Adriano Basij at Simon Fraser University in Vancouver. "I am an entrepreneur with a passion for technology," wrote Basij. "From the beginning I had the vision of creating one smart product that is capable of doing everything that a user wants, while at the same time keeping it simple."
Galaxy Hub connects directly to a TV using HDMI, bringing all the same applications you can find on mobile Android devices directly into your living room. Users will be able to load up more than 600,000 apps currently available on Google Play to their big screen, in addition to services Netflix and Hulu.
The device also comes with a handy remote complete with a fully functioning keyboard and motion control capability, which is described on the website to work in a similar fashion to Nintendo's Wii controller. Galaxy Hub's main unit features internal storage capacities of 4, 8, and 16 GB, and has room for additional storage via a MicroSD storage slot.
With the Indiegogo campaign, the company is hoping to raise enough to begin the first round of manufacturing. "Currently we have working prototypes and already have a few factories who can begin production," Basij said.
The creator sees Galaxy Hub as a new product to connect the disparate community of Android developers around a single, portable, and affordable device. "We hope that the audience understands the potential in connecting thousands of Android developers to a portable product which is connectible to different screens at home, school, and the office," said Basij.
The first 500 Indiegogo backers will be able to snag a Galaxy Hub for $30 off the retail price at $99. Check out the Galaxy Hub website to find out more about the Android powered smart TV device.