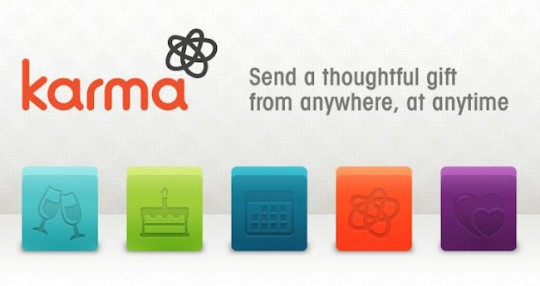 Amid the Facebook IPO frenzy, mobile gifting startup Karma announced that it was acquired by the social network.
Karma co-founders Lee Linden and Ben Lewis, who previously co-founded and built up the mobile advertising and monetization platform Tapjoy, announced the acquisition via the company's blog. The terms of the deal were not made public.
Karma was founded in 2011 and raised $4.5 million. The company was backed by Sequoia Capital, Kleiner Perkins Caufield & Byers, and various angel investors, including Gary Vaynerchuk, largely because of the successful track record of Linden and Lewis. Their previous company Tapjoy was acquired by Offerpal Media in March 2010. Lindin also previously founded ContestMachine, worked in product development at Microsoft, and was an associate at Kleiner Perkins.
The team of sixteen will all be joining the Facebook team, although the acquisition is not a pure talent acquisition like the recent acquisition of Gowalla by Facebook according to the Karma co-founders:
We've been really impressed with the Karma team and all they accomplished in such a short time. This acquisition combines Karma's passion and innovative mobile app with Facebook's platform to help people connect and share in new and meaningful ways."
Karma's mobile gifting product could be a new way for Facebook to monetize engagement with brands and products on the social network. Unlike the Instagram deal, Facebook will most likely absorb the product into the platform to boost engagement. According to Karma's official blog, the Karma team will continue to work together to build their product at Facebook:
The service that Karma provides will continue to operate in full force. By combining the incredible passion of our community with Facebook's platform we can delight users in new and meaningful ways. As we say … only good things will follow.
Now is the perfect time for Facebook to make an acquisition like this. Karma already uses Facebook data to sort through your friends' birthdays, likes, and recent occasions, like weddings or the birth of a child. Once you found an occasion to send a gift, the app allowed you to order and send a physical gift from a selection of over 50 product companies.
Since Facebook already has access to all of this information and can even predict when life events will take place for its users – thanks to Timeline – it makes sense that Facebook would want to have a product that makes use of this data.