Sand Hill Road is a famous stretch in Menlo Park, California, that connects El Camino Real with Interstate 280. The road is home to many of the biggest technology venture capital firms in the world, including Kleiner, Perkins, Caufield & Byers, Andreessen Horowitz, and Sequoia Capital. Now, a new map of New York City's startup ecosystem shows that the city's Flatiron District may be the new Sand Hill Road of the east coast.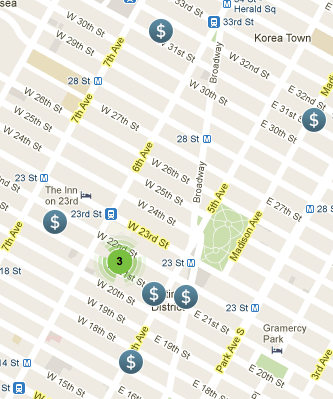 The Made in NY Digital Map built in conjunction with Internet Week New York and the Mayor's Office of Media and Entertainment, NYC Digital, shows that there are over 300 startups in the Flatiron District alone. The district, which lies just under midtown and just above Union Square, is also home to some of the most successful technology venture capital firms on the east coast. According the map, there are nine venture capital firms in and around the Flatiron District:
Collaborative Fund
Located at 136 West 21st Street, Collaborative Fund has invested in Kickstarter, Simple, SkillShare, Codecademy, and TaskRabbit to name a few more notable companies in their portfolio. Craig Shapiro, the founder and CEO of Collaborative Fund, also cofounded GOOD Worldwide LLC.
BOLDstart Ventures
Located at 56 West 22nd Street 9th Floor, BOLDstart has invested in Yipit, IndieGoGo, Rapportive (acquired by LinkedIn), and Blaze (acquired my Akamai). BOLDstart is headed up by Ed Sim and Justin Wohlstadter.
Founder Collective
Located at 54 W. 21st Street #1001, Founder Collective is a seed stage fund that is a collaborative effort run by successful entrepreneurs like Caterina Fake and Chris Dixon. Founder Collective has invested in About.me, Vimeo, Uber, Skype, OMGPop, and more.
Quotidian Ventures
Located at 22 West 21st Street 8th Floor, Quotidian Ventures is a new fund managed by Pedro Torres Picón. The fund is focused on early stage startups New York in Latin America. So far, the fund has invested in Nestio, Knodes, and BrightNest.
IA Ventures
Located at 156 5th Ave #1119, IA Ventures has invested in Next Big Sound, Yipit, Kohort, Simple, Datapop, and more. Roger Ehrenberg is the founder and manager of IA Ventures.
Union Square Ventures
Located at 915 Broadway #1408, Union Square Ventures has had some of the most recent biggest wins in the New York City startup ecosystem. Union Square Ventures has some of the most coveted investments in technology right now, including Zynga, Twitter, Dwolla, and Tumblr. Fred Wilson, one of the most prolific venture capitalist bloggers, is a managing partner.
Canaan Partners
Located at 95 Ffith Avenue 5th Floor, Canaan Partners is a large fund that invests in companies both inside and outside of consumer technology. Some of their more notable consumer technology investments have included Active Network, DoubleClick, Match.com, and eBillMe.
K2 Media Labs
Located at 32 East 31st St 12th Floor, K2 Media Labs was co-founded by Kevin Wendle and Daniel Klaus. K2 has invested in Hapify and Fluent Mobile.
DFJ Gotham
Located at 132 W. 31st Street #1102, DFJ Gotham has invested in Yipit, SinglePlatform, Drop.io, and DailyWorth to name a few. The fund is headed up by co-founders and managing directors Ross Goldstein, Tim Draper, and Daniel Schultz.
Wall Street may rule the financial world, but the Flatiron District is where the kings and queens of the internet preside over the growing east coast technology startup scene. As New York City becomes a more attractive place to anchor new startups, the Flatiron District is the place to go for new entrepreneurs when it comes time to pound the pavement looking for investment.