Forget the Weather Channel–what if you could actually feel what the temperature is going to be like tomorrow?
That's the idea behind the Cryoscope, a prototype by Rochester Institute of Technology student Robb Godshaw. The device, which evokes in equal parts the Companion Cube and Lemarchand's Box, adjusts its temperature to match the forecast, letting a user experience–albeit on a surface–what the outside temperature is going to feel like.
"Instead of using traditional feedback systems that hide the information behind arbitrary metrics such as Fahrenheit or Celsius, the Cryoscope shows the user exactly what to expect outside by physically exhibiting exactly how cold or warm [it's going] to be outside," he wrote in an email message. "The user simply touches an aluminum cube that has been heated or cooled to the appropriate temperature."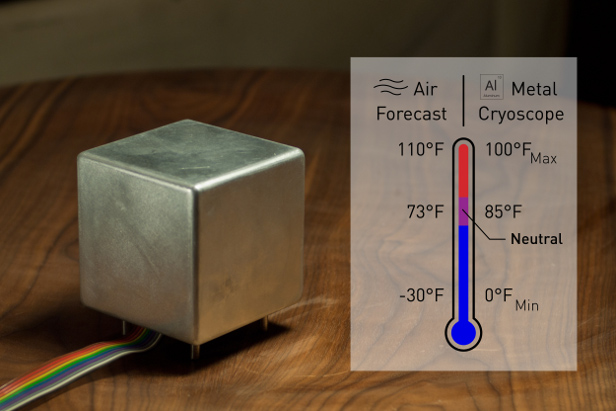 The Cryoscope is run by an Arduino microcontroller with a wifi module, which fetches weather data from the internet and controls the temperature of the cube's surface with a Peltier element and a heat sink. A less sophisticated conceptual piece that predated the Cryoscope was built with parts on hand, including an aluminum candle dish, a mini-fridge and some walnut wood–a simple design that appealed to Godshaw, and which he decided to stick with in the new prototype.
Because some materials, like the Cryoscope's aluminum casing, feel cold to the touch, the device's controller calibrates the cube's temperature to match human perceptions of hot and cold. It takes the prototype Cryoscope about five minutes to get down to zero degrees Fahrenheit from room temperature, according to Godshaw.
A preexisting product that influenced the Cryoscope's design is the Ambient Orb, an early-2000s lamp that expresses numerical data like temperature or stock market trends with gradient color shifts. But Godshaw wanted to go further in breaking down barriers between between information and experience.
"I was thinking about ways information about weather is conveyed," he wrote. "I found myself disappointed in systems that rely on numbers which have little to do with how humans perceive hot and cold. I sought to develop a device that conveyed the forecast in a manner which left nothing to the imagination."
Godshaw developed the Cryoscope on his own time, but using the facilities at Syyn Labs, where he is currently working at an extended internship before returning back to RIT next fall to finish a degree in Industrial Design. He's considering routes to commercialize the Cryscope, including using Kickstarter to raise funds.