EverPurse, the bag with the built in smartphone charger, is on the verge of closing its Kickstarter campaign this weekend at more than two times its original goal. The campaign, which kicked off back in September, has pulled in a very impressive $229,000.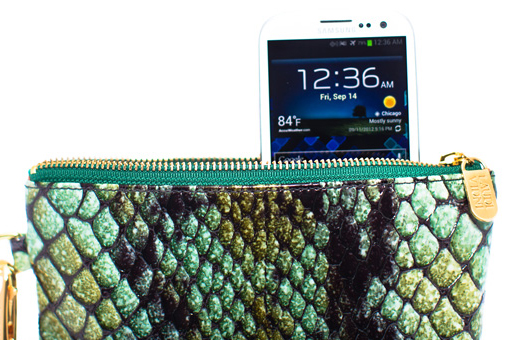 Throughout the Kickstarter campaign, EverPurse founder and CEO Liz Ormesher Salcedo has continued to add support for additional smartphones, including the Samsung Galaxy S3 and the latest release of the iPhone. As a thank you to all of the supporters, the Chicago-based company is making a brand new flavor of EverPurse available on the eve of the campaign's close.
"I am so grateful to all our backers for their support during our campaign," said Salcedo. "We wanted to thank everyone by making the blue and green Croc-embossed bags available at a special Kickstarter price."
During the last day and a half of the Kickstarter, 300 backers will have the chance to snag the stylish croc-embossed leather bags featured on EverPurse's recent segment on Good Morning America. The bags will be available to backers for $189 — more than $100 off the expected retail price. Even if crocodile isn't your thing, the EverPurse is still available for preorder in both leather and fabric designs.
As the campaign kicked off last month, Ormesher told Techli that the Kickstarter was ultimately a way to see how interested the public would be in a clutch with a built in charging system. "The ultimate test is whether or not people want it," Salcedo said. "Kickstarter is a really great place to get feedback and incorporate it."
After pulling in more than double its goal over the month-long run, it's safe to say that consumers are downright clamoring for the innovative charging device. Fortunately, supporters won't have to wait too much longer to get their hands on the EverPurse, as the bag is expected to ship in March of next year.
There's still just over a day to go before the Kickstarter closes for good, so if you've been pondering which bag will go best with your favorite outfit, it might be time to finally pull the trigger. Check out the EverPurse Kickstarter page to find out more about pricing and availability.