The Bradley Business Center officially opened its 350,000 square-foot tech center late last month, and is already home to two emerging green technology companies. Located in the North Center area of Chicago, the Bradley Business Center offers both office and warehouse space for emerging tech companies looking to get a foothold in the Windy City.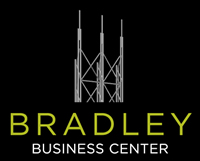 350Green, the Bradley Center's first tenant, is part of the nationwide EV Project to help build electric vehicle infrastructure throughout the US. The green tech company works to engineer and install electric vehicle charging stations in major cities, offering EV owners access to the nationwide network of charging locations through either monthly or per-use payments. More recently 350Green has begun manufacturing its own EV batteries in a partnership with AllCell Technologies and the Illinois Institute of Technology.
Urban agricultural startup BrightFarms is the most recent addition to the tech center, leasing 45,000 square-feet of rooftop space to begin work on a hydroponic farm. The green company is working to create sustainable agriculture operations as close to supermarkets as possible, negating operational, environmental, and food-quality costs of transporting produce from outside the city.
The Bradley Business Center is a joint venture between Hansen Realty and Centrum Partners, who are hoping that the Northside location will help nearby jobseekers find a resource for job opportunities alternative to the busy downtown area. The building additionally hosts a variety of amenities for tenants, including an on-site café, fitness center, outdoor basketball court, rec room, and more.
"Companies like 350 Green and Bright Farms are exactly the kind of tenants we are seeking at the Bradley Business Center," said Centrum Partners senior vice president Michael McLean. "Innovative firms that bring a culture of creativity will help establish a dynamic environment and will define this location as one of Chicago's premier technology centers."
Each of the green companies are originally based out of the booming startup ecosystems of the East and West coasts. Hopefully the continuing emergence of new business centers like Bradley will help to draw even more innovative tech companies to take part in the rapidly growing Chicago startup community.
Visit the Bradley Business Center website find out more about the new space and its first occupants.