"The thing about a selfie is that it's kind of sad," said Tim Raybould, CEO of TicketLeap, a Philadelphia-based event planning and self-serve ticketing platform.  So why would this company try to redeem it?  Well, it solves a problem that a lot of event planners share…
We've all been to those events.  It's complete chaos, you wave your phone at the overwhelmed person at the door, and they visually check your QR code to let you in.  The fact is, anyone could just flash a QR code to a person.  You can't scan one with your eyes.
That's why eight months ago, TicketLeap took what might have been a crazy idea and put together what they're calling the "Selfie Ticket."  You might call it a manual sort of facial recognition software.  Instead of having to scan codes with your phone, you can quickly recognize the person based on the selfie they've taken.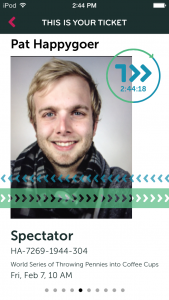 Here's how it works.  Event goers will receive an email 24 hours prior to an event alerting them that it's time to take their selfie.  And don't worry! Attendees can take as many "selfies" as they need to until they take just the right one.  Once they're happy with it, they simply save it to the app, and it generates a Selfie Ticket.  Easy and fun, right?
While TicketLeap is not exactly new on the scene, they've been through some changes recently, including a change in leadership.  Beah Burger-Lenehan, TicketLeap's VP of Product, shared that the previous CEO and founder moved into a board role.  Once that happened, they took a long look at what they wanted to do as a company, which is where the Selfie Ticket started.
"We decided to focus on a particular type of event planner.  We wanted to work with truly, self-served event creators who were trying to build an audience around something," said Beah.  "They're not full-time.  But they're passionate about it.  As we got close to them, we learned a bunch of stuff that didn't work for them."
Like QR codes for one…
"People hate QR codes, and they feel alienating, and you have to have a device and be connected to the Internet," said Beah.  "The whole thing is heavy-handed."  TicketLeap as a company is still relatively small, which means they can still hold brainstorming sessions with their entire team.  "Our customer success lead came to me a few days later and said this idea might be totally crazy.  And, she described an early concept of selfie ticket," shared Beah.  "We said it's not crazy, or maybe it is crazy, but it's f—— awesome.  That was eight months ago, and now we're launching it."
TicketLeap launched its Selfie Ticket today, and it will make its big debut next week at Launch Festival.  All 8,000 plus attendees will gain admittance by downloading the TicketLeap app and snapping their time-stamped selfie to get in to the event.
What do you think? Is this a good idea? I'm not one who takes very many selfies, but it makes sense that this would be appealing to event creators.  It does solve a very frustrating problem, which is exactly what you should do as a startup entrepreneur according to Tim.  "The advice I'd give to aspiring builders of products and solutions is to make sure it solves a problem, and even better, if it's solving your problem," said Tim.  "If it's not, make it your own problem.  You're only going to build a product that solves a problem if you feel it yourself."
But is this the way we want to solve the problem? With more selfies?  "The best part of life is being with other people and experiencing something unique," said Tim.  "And I think it has a chance to have a redeeming factor to the selfie."  I guess we'll see… Learn more about TicketLeap here.