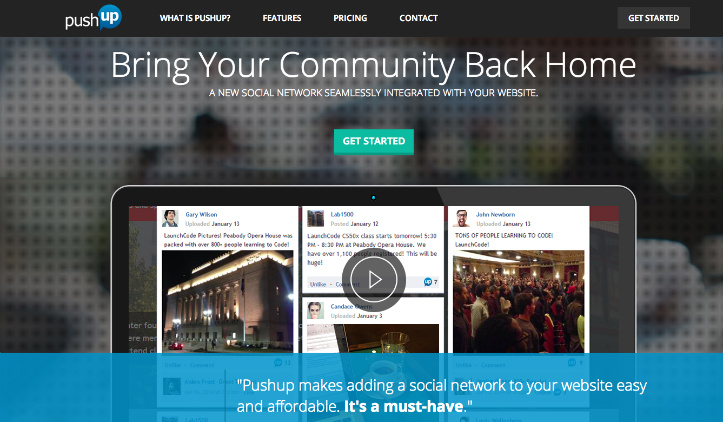 As Techli extends its reach, we are also looking for ways to better engage our readers.  To that end, we have added the PushUp social network to our site, and we'd love for you to try it out!
PushUp.com founder Yomi Toba said he created PushUp because, "I wanted to empower the little guy- you are limited to whatever constraints big social media sites put on you.  It's not necessary to be confined to their infrastructure."  He added with a smile, "Plus, its fun."
Take a look at the bottom of the screen- you'll see the following bar (go ahead and click on it at the bottom of the screen):

While we have big ambitions, we'll take the scrappy underdog title anyday- and we want to give our readers a voice beyond the normal commenting system found on other news sites.  As we (Team Techli) use PushUp, you'll see us occasionally post an oldie but a goodie from our past sources of content that are still relevant today.  Like many news sites, we have a backlog of content and usually after its off the front page, it doesn't get the love it still deserves.  We'll also use it to communicate directly with our audience- feel free to post questions or comments and we'll answer them lickety split. (In some cases we'll answer in two or three licketys, four licketys max).
That's what WE plan to do with PushUp- but we want to see what our readers think as well.  Think of PushUp as your direct line not only to Techli but to all of Techli's readers.  We want you to tell us what you like, what you don't like, what you'd love to see us do, what you thought of our last event, etc.  All comments are welcome as long as you're polite- we don't want to revert to Engadget's bad old days of mean commenting or have Youtube's current version of mean commenting.  We have thick skins, but let's keep it civil, Internet.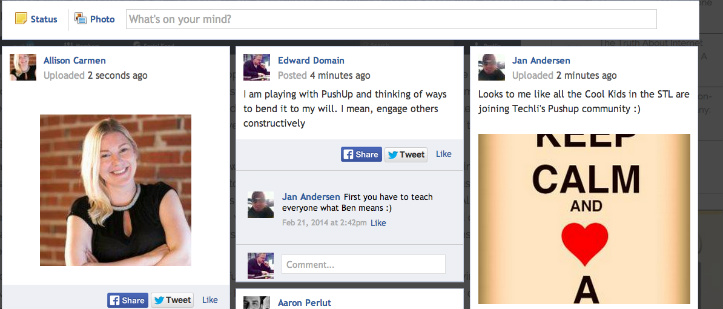 Also keep in mind, PushUp is in beta.  We're kicking the tires and giving it a go so we can not only enrich your Techli experience but also provide valuable feedback to a really cool startup.
Right now, we are looking for readers to test out the experience.  If you'd like to join the conversation, by all means click that bar at the bottom of the screen and we'll get you approved nice and quick.  If it takes a minute (or a day), don't freak- we're going to approve you but we also want to make sure spammers don't slip by as we get it all up and running.
Stay tuned Internet, more awesome is coming.