France-based company Eole Water has been developing a new wind turbine concept that creates water from air. With this technology the company hopes to reduce the three million deaths each year that occur due to polluted or inadequate water supplies.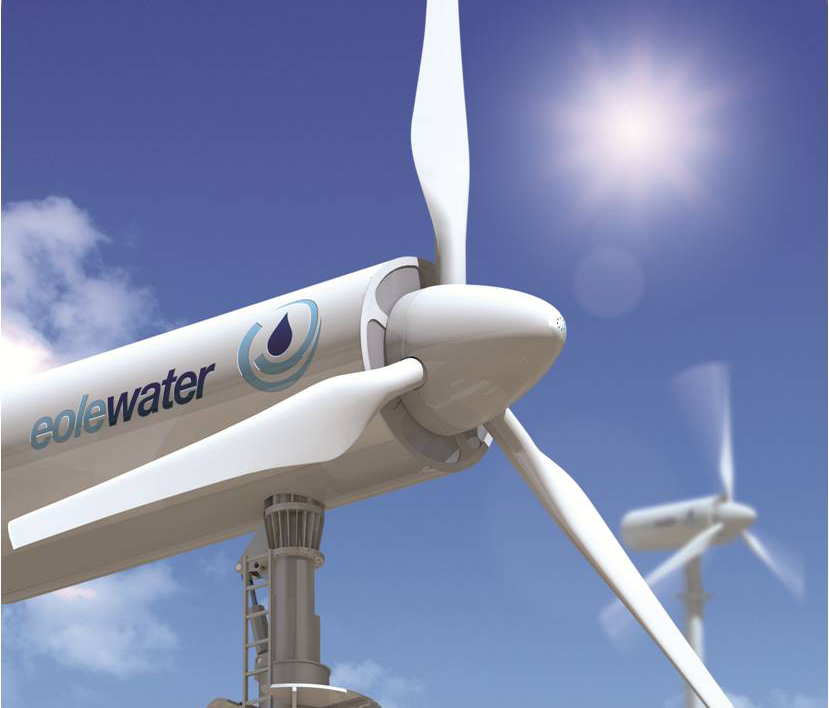 Eole Water's wind turbine works by taking in the surrounding air and heating it into steam, which is collected by the turbine's humidity condenser. The collected water is then sent to a ground storage tank where it goes through an extensive purification process, ultimately coming out as clean, drinkable water. This entire process is powered solely by the wind turbine energy. According to the company's website, the turbine can generate up to 1,000 liters of drinkable water per day.
Its electricity independence is the turbine's best and most innovative feature, making it an extremely viable water producing option for remote, rural, or disaster-stricken areas where water isn't readily available. The air-to-water technology aims to create the kind of clean, thoroughly filtered quality water that complies to World Health Organization standards.
The concept for Eole Water's turbine came to its inventor Marc Parent while living in the Caribbean. At the time Parent didn't have access to a centralized water system so he began collecting water condensation from his air conditioner to drink.
Because Eole Water's turbine generates power independently, the whole system requires very minimal maintenance. Its heat exchange, which converts the air into steam, is self-cleaning and the turbine's humidity condenser is made of stainless steel alloy that allows the turbine to operate reliably for decades, according to the company's website.
Though the company hasn't said yet when the turbine will be commercially available, its website says their target customers include "national or local governments, NGOs, local communities, eco-hotels, or large companies." Currently Eole Water is developing the technology with fourteen other companies, including European electrical engineering giant Siemens. For now the company is continuing to test a prototype of the turbine that was constructed in the Abu Dhabi desert in October of last year.