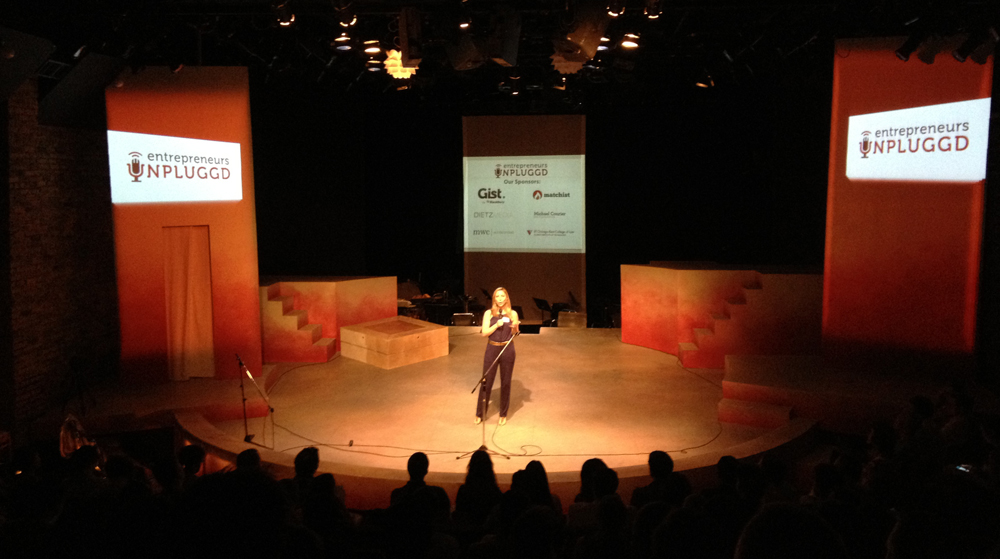 Entrepreneurs Unpluggd is an event series where founders can tell the story behind some of the biggest startups in Chicago. This month, the founders of GiveForward, Threadless, and Tap.me discussed how they turned their individual passions into successful businesses.
GiveForward
First to take the stage was Desiree Vargas Wrigley, co-founder of the for-profit charitable startup GiveForward, which provides an online space where people in need can raise money. To date the service has helped people raise over $16.3 million, with $7 million raised this year alone.
Wrigley talked about her all-consuming idea to create a startup focused on the intersection of "doing good and doing well" – an idea that became her passion after time abroad. Before moving to Chicago and founding GiveForward, Wrigley worked as a waitress in Kansas City, Missouri, eventually finding a place at the Kaufman Foundation.  Wrigley worked at the not-for-profit organization during the Hurricane Katrina disaster of 2005, and found herself frustrated with the lack of avenues for giving money to support disaster victims. A year later, Wrigley moved to Chicago to begin searching out funding for GiveFoward.
After struggling with VCs who thought she couldn't create a profitable company based on the concept of charitable fundraising, Wrigley met her co-founder Ethan Austin, who was looking to create a similar platform specifically for marathon runners. The two launched the company together in August of 2008.
During its first year, Wrigley said the company only made $6,000 in revenue, forcing her to continue waiting tables five nights a week to support herself. Instead of looking at the money they earned, Wrigley said they began measuring GiveForward's success exclusively in thank-you notes.
Wrigley's message to the audience was to "continue with your passion, even if no one else sees it." The founder admitted that it was always hard to hear potential investors tell her that running a for-profit business based on charitable giving was impossible, but she never gave up on her philanthropic passion.
Threadless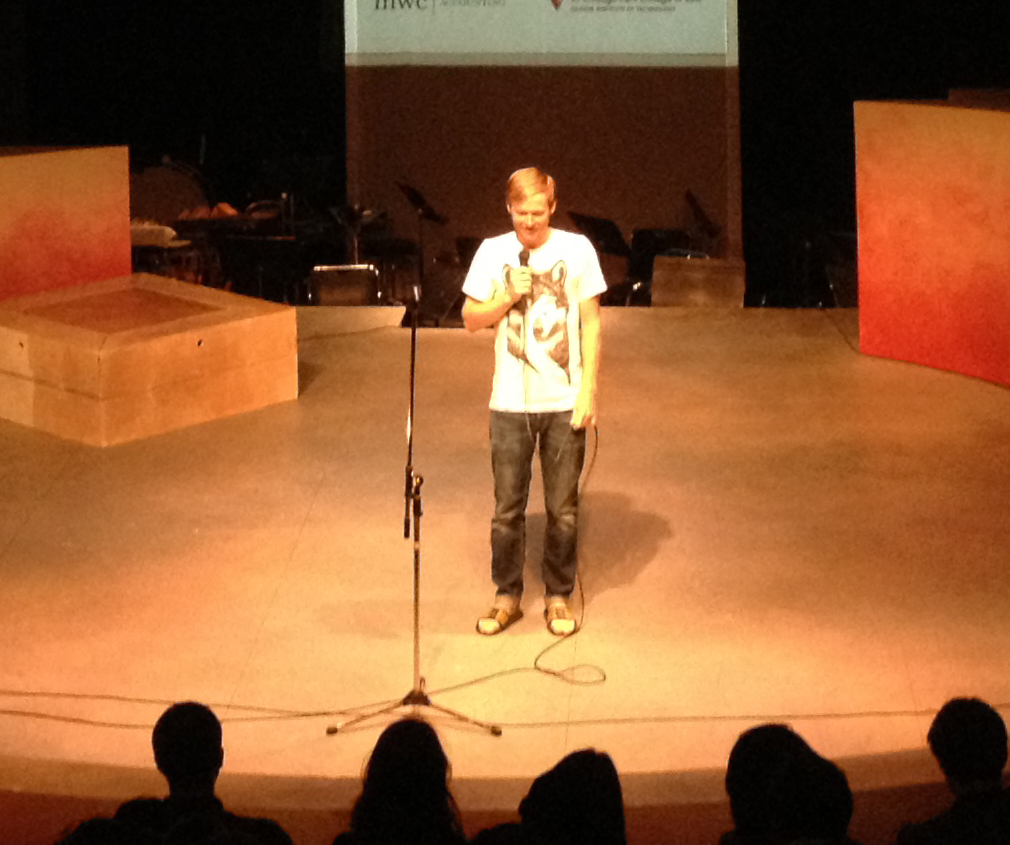 Next up was Threadless founder Jake Nickell, who took to the stage wearing a wolf t-shirt and sandals. Nickell's clothing website has become a wildly popular medium for artists to showcase their work, and get paid respectably for their contributions.
The founder began by recounting his early days in small-town Indiana, where he became deeply interested in web design. Nickell said he could remember opening Prodigy on his dad's new computer and clicking 'view source' to learn the underlying architecture of webpages. At age 16 he began asking local businesses if he could create a website for them for free, eventually securing a job at the town's internet service provider. Nickell found, however, that once his hobby became a job he began losing interest in the work. "So I started doing graffiti," Nickell said.
Even though he had received a full-ride scholarship for computer engineering, the founder decided to go to art school instead, where programming again became a hobby.  During his time at art school Nickell became heavily involved in a private online community for digital artists called dreamless.org. He began his highly successful company one hour after winning a t-shirt design competition hosted by the website, when he posted a thread about bringing the community's digital art into the real world. People began submitting t-shirt designs in the dreamless.org thread he had created, which eventually led Nickell to the title of his new venture: Threadless.
Nickell and his partner Jacob DeHart began building the website with only $500 each. For its first four years, Threadless was a hobby for the founders, where every dollar made went right back into creating more t-shirts. In 2004, Nickell decided to drop his freelance work and began working full-time on the company, which by then had become more profitable than any of his other projects. Unlike his growing resentment for programming at his previous jobs, Nickell said that Threadless never became dull because it never stopped being a hobby.
Nickell talked about the company's focus on artists and their artwork above all else – a principle of Threadless that Nickell believes has been maintained from the beginning. Aside from making t-shirts, the company has begun partnerships with Gap and Bed Bath & Beyond, selling comforters, shower curtains, and wastebaskets branded with pictures and information about the artists that created them.
In line with passion for creating art in the physical world, Nickell told the attendees to "never stop making" – a concept that he said has been at the core of everything he's ever done. "Get ideas out of your head and make it real," he said.
Tap.me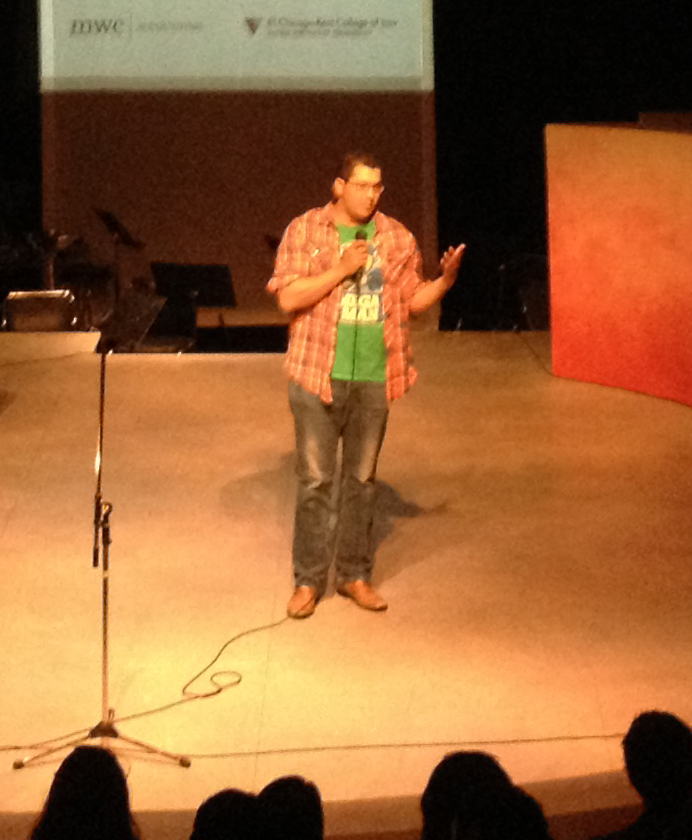 Josh Hernandez of mobile gaming startup Tap.me took the stage to round out the evening.
Hernandez said his passion for gaming began with game music, where he used to play through titles just to record the soundtrack on cassette tapes. Through game music he got involved with an online community based around a music making application called FrootyLoops – software that Hernandez admitted to pirating. After having been found out by the creator of FrootyLoops, Hernandez was tasked with helping support the online community as repayment.
After spending a great deal of time teaching himself HTML and database programming in order to help users share their own music across the web with one another, Hernandez decided to create his own record label titled SectionZ –  a label that still exists today. The first CD was full of content from the community, including a track from Joel Zimmerman who would later go on to become deadmau5.
Hernandez said his work with SectionZ made him realize the incredible power of community. "Tying people together is an absolute necessity so we can create amazing things," he said.
After spending some years working for advertising agencies, Hernandez decided to go back to school to follow his passion for video games. He attended the Tribeca Flashpoint Academy in Chicago to learn game design, and started the mobile game studio Tap.me as soon as he graduated. The company's first big success came with a Bejeweled-like game in the early days of the iPhone called bitFlip. The game was a great success: it had been featured by Apple and sold 115,000 copies within its first week of release, but to Hernandez's dismay just as many copies were being pirated on Jailbroken iPhones. Tap.me decided that instead of fighting piracy, they would embrace it by working to creatively fit advertisements within a game.
As the topic of funding arose, Hernandez couldn't help but express his resentment toward overly anxious investors who focus entirely on profits over innovative ideas. "'What's the business model, how does it work?'" he mimed. "I say, fuck you. If the market doesn't exist, I'll create it. That's how new stuff happens." Hernandez lowered his middle finger to much applause.
When asked how entrepreneurs can focus their passion, Hernandez told the audience to never stop learning. "Always be learning," he said. "Be willing to learn."
For more about the featured speakers, as well as a full video of the June 19th event, head over to the Entrepreneurs Unpluggd website.