A Seattle-based company has recently launched a Kickstarter fund for its new game controller for your tablet or smartphone. The device, called the DRONE, aims to bring solid button controls to largely touch-screen platforms.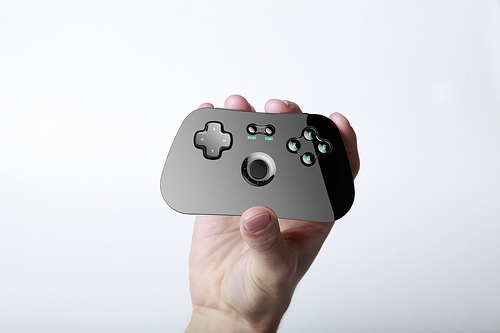 The controller is relatively small, about the same size as a standard smartphone, and features a pretty sleek glossy black coating. The DRONE has a fairly standard button layout, with a simple directional pad, six face and two shoulder buttons, and a flat joystick in the center of the device. The positioning of the thumbstick at first seemed really strange, but after thinking about the possibility of using it for first person games, where you would move with the directional pad and look with the stick, the center seems to be a suitable location for use with either hand.
The controller has a mini-USB connection on top, where it can charge and also be connected to a computer in order to change or update the freely-configurable device. With mobile devices, it connects simply with the Bluetooth technology most smartphones and tablets already have. From there configuring controls will have to occur within the game or emulator itself, if the option is available at all.
The company's fundraising goal is set at $60,000 to cover manufacturing costs. So far there have been 59 backers pledging a total of $5,915. The Kickstarter has 19 days left to go.
The video shows the controller primarily working with game emulators and no actual mobile-specific games. This is probably the device's biggest challenge, as strictly controlled platforms like the iOS have to be hacked to run unapproved games and emulation software. The success of the controller will depend partly upon user adoption, but mostly on mobile developers willingness to cater to the specific audience using the DRONE, in games both retroactively and into the future.
The project definitely has the potential to be a success, particularly on more open platforms like the Android OS, but until I can play some Castlevania on my iPhone without using Jailbreak I'll just stick with my sloppy touch screen controls.