It's no secret that Douglas Coupland has spent innumerable hours mulling over technology's impact on our culture today, especially when looking back through some of his more famous novels – including titles like JPod and Microserfs, a tale of Microsoft coders who search for meaning in their redundant lives. This month, rather than contemplating solutions to our tech saturated lives on the page, the prolific Canadian author has debuted a real world solution to our growing gadget needs.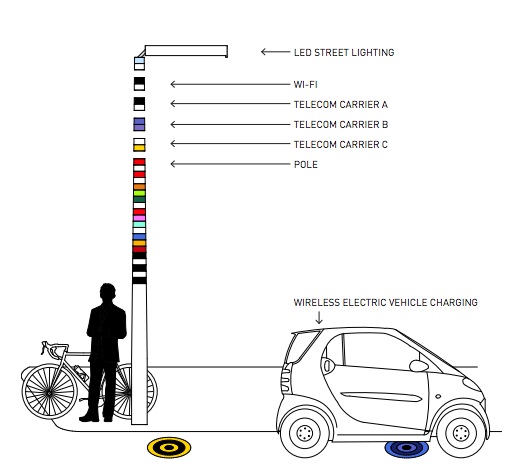 Coupland's new urban landmark, called the V-Pole, will provide wireless internet access and green charging services using the smallest possible environmental footprint in urban areas. The 12-foot high pole will feature Wi-Fi access, LED lighting, an electric vehicle charging station, a parking payment interface, and even serve as a digital neighborhood bulletin board, all while expanding wireless broadband networks for a number of carriers.
"The wireless data game has changed," Coupland said in a press release following the V-Pole's debut in Paris this month. "Data transmission is no longer something scary you don't want in your back yard. Now you want it directly in front of your house."
After spending some time searching out open source wireless solutions, Coupland discovered Bell Labs' innovative lightRadio cube technology. The lightRadio cube is an extremely compact wireless broadband antenna that will one day replace expensive cell phone towers, and is featured prominently in Coupland's V-Pole concept.
The V-Pole is reported to be constructed in a "Lego-like" manner, where each needed section can be added on top of one another like a totem pole. The "V" in the name is after the novelist's home city of Vancouver, which will be the first to begin implementing the new technology.
According to Coupland, the V-Pole is as much art as it is a new urban technology. In the city of Vancouver V-Poles will accentuate its surroundings in colors like Yellow Warbler, Pileated Woodpecker, and Flowering Plum. As a designer Coupland has made sure to point out that he will receive no money for the open source wireless platform he's created. "I'm presenting this only to get people thinking about the future," he said.
Vancouver mayor Greg Robertson is already onboard for the ambitious urban project, calling the V-Pole "an example of future-driven design for cities that we are excited to see."
"You would never think of a building, a house, or office tower without electricity – in the same way, you would never think of developing future cities without V-Poles," Coupland said.