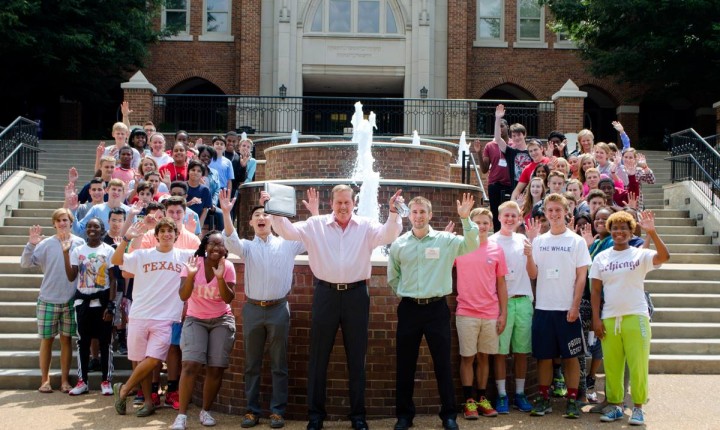 Cool My Car does exactly as the name suggests – place it on your dashboard and you can expect your in-vehicle temperature to drop to 76 degrees, even in summer months. Earphone Speaker Case doubles as both a speaker and earphone case, protecting earphones while also eliminating the need for big stereo systems at parties. Uniwards is an all-encompassing rewards card that allows users to transfer all of their earned points on to a single card, eliminating the need for multiple cards.
These are not real businesses – at least not yet. All of these concepts were designed during the Allsup Summer Entrepreneurship Academy, a week long program for high school students at Saint Louis University. In addition to building a business plan from scratch, the more than 50 students who participated also engaged with area entrepreneurs and visited different business sites in the St. Louis Community.
The event is one of many hosted by SLU's Center for Entrepreneurship. According to Tim Hayden, director of SLU's Center for Entrepreneurship, the school focuses on three main "buckets:" high school, college and the community.
SLU engages at the high school level by hosting programs such as the Allsup Summer Entrepreneurship Academy, among others. At the college level, in addition to its robust curricular offering, SLU has devised clever-named programming including The "Real" Elevator Pitch, where student entrepreneurs pitch their business in an actual elevator, and the Pitch & Catch competition, where students pitch their business model from an actual pitchers' mound.
At the community level, SLU runs programs such as Billiken Angels Network, an investment fund for promising startups in the region, and the Habitat for Neighborhood Business, an eight bay, retail incubator in North St. Louis City.
"When people think of a college entrepreneurship program, they probably think that the whole focus is on the current students," Hayden said. "But you can't really start building an entrepreneurial mindset in college and then say 'good luck' at graduation. We have to work to build out a much larger ecosystem."
FROM 1 to 80
SLU is one of several higher education institutions in St. Louis building out this widely discussed ecosystem. Entrepreneurship programs at SLU aren't new – 2014 is the 40th anniversary of SLU teaching entrepreneurship, with the center going strong for 26 years, Hayden said.
Other colleges and universities have built their programs in a shorter period of time. Many of St. Louis' recent startup successes – like Yurbuds and Answers.com — were founded by Washington University alumni. But 10 years ago, the school had little formal entrepreneurship programs and taught just one entrepreneurship course through the business school.
Today, the university boasts over 80 different classes with entrepreneurship content and students can focus on different kinds of entrepreneurship (i.e. social entrepreneurship). Moreover, the University's Skandalaris Center hosts a wide variety of events. Perhaps the most well-known is the Olin Cup competition, a business plan contest where student and/or alumni co-found a company and compete to receive seed funding. Other programs include the YouthBridge Social Enterprise and Innovation Competition, which awards grants for developing innovative solutions for dealing with social and sustainability problems, and IdeaBounce, which is not a contest but allows anyone in the world to post business ideas on the programs' website and begin connecting with a "network of creators, inventors, investors, business people, service providers, customers, mentors and others."
The Skandalaris Center's soon to retire managing director, Ken Harrington, emphasized that the center looks to play a key role in helping to improve on the increasingly robust entrepreneurial ecosystem that is developing right now.
"St. Louis, for a long time, has built up a lot of momentum in building a vibrant entrepreneurial community," Harrington said. "The way the startup community (in St. Louis) collaborates with one another is enticing for many current and would-be entrepreneurs. The goal is to keep that moving in the right direction."
When Harrington first came to Wash U. back in 2001, he said many fewer students stayed in the St. Louis area following graduation, especially those originally from the coasts – a phenomenon known as Brain Drain. Now, more people are interested in staying in the area following graduation, with much of that increase due to the attractive startup culture here in the area. Harrington said that while he doesn't discourage student entrepreneurs from going elsewhere after matriculation, he is "pleased that more students are finding the resources they need locally to be successful."
COLLEGE FOR ENTREPRENEURS?
Despite the robust offerings that are available to students interested in entrepreneurship, the inevitable question comes up: Is this all actually necessary? The question isn't completely without merit. The list of entrepreneurs lacking a college degree is a who's who of modern entrepreneurship: Bill Gates, Steve Jobs, Mark Zuckerberg, Michael Dell, Larry Ellison, to name a few. Richard Branson – he didn't even make it out of high school.
The chorus advocating skipping college altogether is growing louder: Peter Thiel, a prominent Silicon Valley venture capitalist who co-founded PayPal, awards 20 college students $100,000 annually to quit college and start their own venture. He has argued that the skyrocketing cost of a college education siphons funds away from innovative projects that many budding entrepreneurs could be tackling.
Harrington, an entrepreneur himself, firmly disagrees with the assertion that college is useless for entrepreneurs.
"A lot of people come to Wash U. having no idea that they want to become entrepreneurs," Harrington said. "Only when they come to Wash U., take some classes on entrepreneurship, participate in some of our programs, do they realize that this is their calling."
ENTREPRENEURS FROM BIRTH
Obviously, not every student has a passion for entrepreneurship. Nevertheless, starting your own business young has become increasingly sexy.
Hayden pointed out that the ACT, the standardized test looked at by colleges, has recently begun asking whether students actually own their own business. Of the approximately 2,200 incoming SLU freshmen who took the test, a whopping 87 checked yes.
"This generation is far more entrepreneurial than ones in the past," Hayden said. "I mean, compared to when I went to high school, these students are far more creative and savvy."
Why the shift? There are several factors, said Grant Black, the director of the Center For Entrepreneurship and Economic Education at University of Missouri—St. Louis.
"The interest in entrepreneurship has always been there, in some form, but I think the recent recession really brought it out of people," Black said. "It encouraged them to say, 'Well, I can't find work, so I'm going to create my own work."
Although he said that the emphasis on entrepreneurship might weaken slightly as the job market continues to improve, structural changes to the way Americans work means that starting a business will continue to become the cool thing to do.
"Take a look at the changes that are taking place in the way we work," Black said. "No one spends their whole life at big companies anymore. Rapid changes in technology have made starting a business easier than ever before. People are also looking to entrepreneurship to supplement their own incomes."
Similar to SLU, UMSL focuses a lot of efforts on the pre-college crowd. During the year, the college has hosted a two-day entrepreneurship competition with over 250 high school students in the area participating. In addition, UMSL provides training for K-12 teachers on how to approach entrepreneurship in the classroom.
"If the St. Louis area wants to build out a strong entrepreneurial climate, it has to be fostered at a very young age," Black said.
In addition to the work with pre-college students, he said UMSL works with both college students and the community on a wide-array projects. In addition to "traditional" entrepreneurial projects, such as the ITE business incubator located on campus and the university's Commercialization and Economic Development office, the school also thinks of entrepreneurship more broadly. For instance, the school provides training for potential landlords looking to break into the rental housing market.
"The concept of entrepreneurship must be looked at in a broad context," Black said. "Whether looking to start a small business or build the next Google, the resources at UMSL need to be there."
——————————————
Photo Credit: SLU Cook School of Business Facebook Page