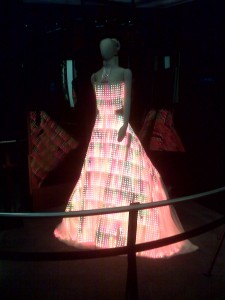 Anyone else out there a techie and fashionista all in one? Well have we got the find for you!
A company based out of London, England, called Cute Circuit, sells items of clothing fused with some of the newest and innovative technology. Remember the light up dress Katy Perry wore to the Met Costume Institute Gala earlier this year? Yup that was a Cute Circuit creation.
Case in point: the Galaxy Dress, which the Museum of Science and Industry in Chicago recently purchased for its permanent collection. The Galaxy Dress can be viewed at the museum's Fast Forward: Inventing the Future exhibit. The dress has LED lights and over 4,000 Swarovski crystals sewn directly into chiffon layers and is powered by a series of iPod batteries.
The Hug Shirt won an award from Time Magazine in 2006 for one of the year's best inventions. It features sensors that allow you to send a hug from anywhere to someone wearing the shirt. Sensors in the shirt record vital statistics such as pressure of the touch, the heart rate and temperature of the skin to mimic a hug precisely.
The Twirkle shirt also uses white and colored LED lights and crystals to twinkle both day and night. The lights move in tune with the wearer's body. And with a recently launched online store, you can shop and sparkle to your heart's content.
Learn more about how fashion and technology fuse here at Cute Circuit's website.