Recently I sat down to talk to Fred Hoch, President of the Illinois Technology Association to discuss the organization's short yet successfully history and the state of the technology scene here in Chicago.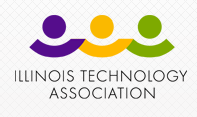 Located at 200 S. Wacker, Mr. Hoch launched the ITA five years ago built, as he says, "on the remnants of old organizations now dead and gone that no longer exist".
"My ultimate goal," said Mr. Hoch, "is to foster collaboration amongst all of Illinois' technology based companies. We all need to work together to succeed."
It would seem his vision has been correct as the ITA has been in operation for just over five years ago and was founded to meet the very need of collaboration Mr. Hoch mentioned. "Every day we have any number of people passing through our work spaces and co-conference areas. Just by the virtue of being here people are more likely to run into other people they can have a joint goal with and be able to do business together."
The ITA has over 700 member companies, over 150 events a year and is approaching $2 million dollars in yearly revenue. 40 companies rent space in their office and 90 people have desks. To date, ITA clients have taken over $37 Million in capital. As if that wasn't enough, there is TechNexus, the incubator space.
"TechNexus is the embodiment of the vision of collaboration ITA has", Mr. Hoch explained. "It is the ITA's investment arm."
We continued our discussion and I asked Mr. Hoch what he thought of the overall tech scene in Illinois and more specifically, Chicago.
"I would argue that we are not Silicon Valley," Mr. Hoch said, "and we should stop trying to be. Illinois and Chicago have tremendous technical talent. Our companies may not all be sexy, but we make the technologies that make businesses run."
Following that vein, I asked Mr. Hoch to play prognosticator and predict where we would be as an industry in the next five years.
"Pick an industry," Mr. Hoch said. "The only way it grows is to be technological." He then got animated as he said, "The cell phone was invented in Illinois, damnit!" (we both shared a laugh) "Chicago can be the centerpiece for industries around the country, like health care or even travel."
As Mr. Hoch kept expounding I decided to see how far I could get him to go in his predictions. On the subject of politics he wisely kept his own council when I asked about who our next Mayor might be. He did offer this insight when he said, "We are in interesting times. We have had a Daley as Mayor for most of the last 50 years and now we have a Governor who may or may not be re-elected and a new Mayor. Regardless of who wins either post, both the Governor and the Mayor must realize technology is the lynchpin of our economy. There has to be a concerted effort across the board for everyone to be involved."