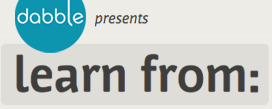 Chicago startup Dabble has launched a not-for-profit initiative called "Learn From" in an effort to convince Mayor Emanuel to teach a one-time class for the Chicago community.
"Learn From is not just an effort to get Emanuel to teach," explains Erin Hopmann, co-founder of Dabble. "He marks our launch of what we hope will be a sustainable program for local leaders and celebrities to agree to teach classes through Dabble."
Dabble — which launched in May — is an online community marketplace where you can sign up for one-of-a-kind classes taught by everyday experts with unique talents. Local venues are also invited to participate to host classes.
"We know city leaders have lots of knowledge to share — and they're usually cooped up in more formal settings. Why not have them teach a class?" asks Jessica Lybeck, Dabble's co-founder. "It's exciting to think about using our platform in a new way, giving back to the community."
In an effort to reach Mayor Emanuel the company put together a video that features Chicagoans suggesting class topic ideas. Suggestions include everything from public speaking to swimming lessons.
If Mayor Emanuel does teach a class, Dabble will donate all proceeds from the $20 ticket sale toward local charities supporting education.
Dabble is designed to offer new learning options to anyone with a busy lifestyle. While based in Chicago, the service will be expanding into six other cities, including Austin, San Francisco, Denver, Milwaukee, Twin Cities, and St. Louis.
Want to learn from Rahm Emanuel? Help Dabble spread the word by sharing the video above and let the Mayor know what you'd like him to teach.
Featured image credit: Charles Rex Arbogast