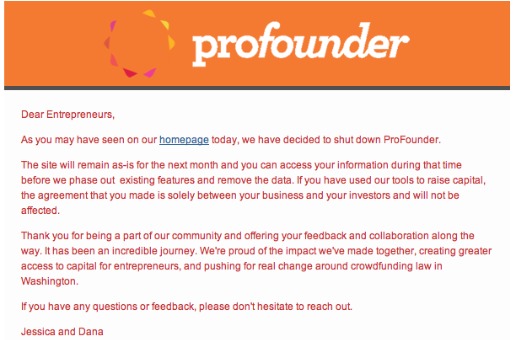 ProFounder, a crowdfunding website that helped entrepreneurs raise capital for their startups, shut down today according to an email sent to ProFounder users. In the email, founders Jessica Jackley and Dana Mauriello expressed that:
The site will remain as-is for the next month and you can access your information during that time before we phase out existing features and remove the data.
ProFounder was founded in August 2009 and officially launched on November 30, 2010. ProFounder secured a seed round of 1.3 million from investors on January 31, 2011. The idea behind ProFounder was to facilitate investment between startups that needed money to launch and willing investors who didn't know how to invest in a private company.
According to a blog post on the company's website:
Despite our progress, the current regulatory environment prevents us from pursuing the innovations we feel would be most valuable to our customers, and we've made the decision to shut down the company.

While this means the entity will be officially closing, we are still committed to our vision. One way we'll be pursuing this is by joining forces with GOOD, partnering to continue innovating around crowdfunding. Our founding team will be collaborating with theirs in coming months to launch new tools and community experiences to empower entrepreneurs and creators. We look forward to bringing what we've developed and learned at ProFounder to GOOD, and are eager to work together to shape the next chapter of crowdfunding.
With a superstar team that included Jessica Jackley, a founder at Kiva, at the helm, it seemed as though ProFounder would actually be able to deliver on disrupting the startup investment ecosystem. Currently, to invest in a private company, people must be accredited investors. These individuals (or married couples) must have a net worth of at least $1 million, or income of at least $200,000 for the past two years ($300,000 for couples), with a reasonable expectation of making the same amount in the upcoming year. I don't know about you, but this definitely puts me out of the running to invest in new and exciting companies that my friends are launching.
It seems like the folding of this company has less to do with the effort and competency of the team and more to do with the legislation that has stalled in the US Senate. U.S. Republican Senator Scott Brown proposed the Democratizing Access to Capital Act in November. It was passed by the House, but there is speculation that it will not pass in the senate due to concerns about securities fraud coupled with the fact the the majority of U.S. senators are not up for reelection for next term.
I'm deeply upset by this news. I've witnessed my founder friends spend as much time courting investors as they do developing their products. Because they have to rely on accredited investors, they can't ask their family and friends for money in exchange for equity. This stifles innovation because there is only one class of people that founders must impress if they want their startups to survive.
The ProFounder founders are encouraging everyone who cares about the future of crowdfunding to go to the website legalizecrowdfunding.org/ to show their support. The startup community must get involved en masse if we want the future of crowdfunding to be brighter.