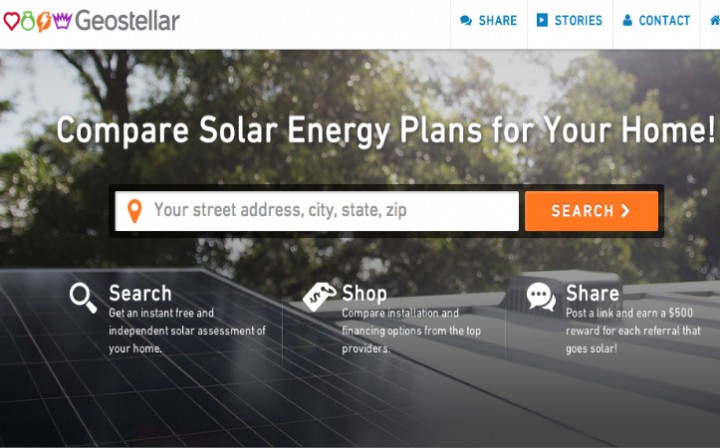 As Techli reported in February, online solar marketplace Geostellar took a gambit on equity crowdfunding. Thus far it seems to be paying off.
The West Virginia-based company announced it had reached its $1 million fundraising goal through the equity crowdfunding platform Return on Change, which facilitates investing in companies that have significant potential for financial returns and make a positive impact on society. This campaign took advantage of new rules in the Jumpstart Our Business Startups (JOBS) Act that allows smaller investors to invest in private companies.
"Raising capital online since the JOBS Act makes it much easier to spread the word, get potential investors engaged and provide information," David Levine, the CEO of Geostellar, said in the company's announcement.
This method of fundraising is a recent change for the solar firm. The company has raised $16 million since its inception in February of 2010, and much of the company's funding previously came from NRG Energy.  But the firm worked out a deal with investors to convert preferred shares for common stock and issue new shares, allowing people to invest at a lower valuation despite having a much more mature infrastructure in place.
.

Geostellar recognized that much of American's financial wealth, about $18 trillion, is tied up in retirement accounts. Earlier this month, it announced a partnership with PENSCO Trust Company, an IRA custodian with approximately $10 billion in assets under management. This allowed accredited investors to finance the company through a tax-advantaged account.
Levine believes fundraising campaigns such as these will continue to grow and will give entrepreneurs easier access to capital.
Half of the money raised is expected to go toward sales and marketing, $340,000 will go toward product development, $100,000 will go toward operating infrastructure and $60,000 will go toward general administrative expenses.
Return on Change is certainly optimistic about the potential for the four-year old solar energy company.
"We believe Geostellar is a clear example of a business that has profit potential for investors and long term sustainable value," Sang H. Lee, the CEO of Return on Change, said in a statement.
The Return on Change platform is one of a growing number of equity crowdfunding platforms turning everyday individuals into "angel investors." That's a pretty good deal – Return on Change notes that experience an average return of 260% in 2.5 years.