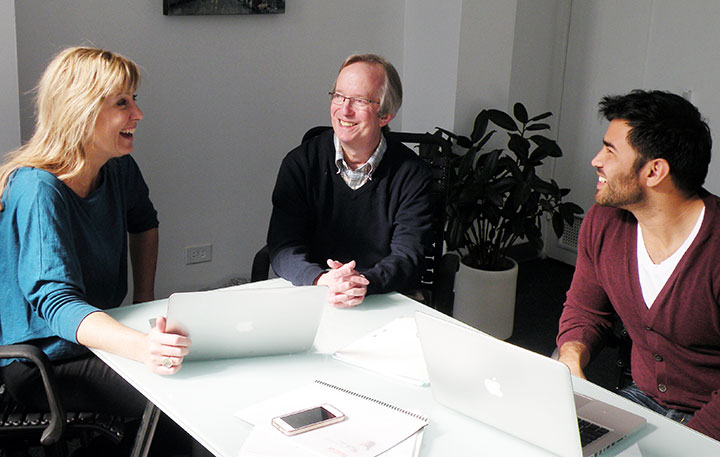 With school funding continuing to be a challenge for Illinois schools, as well as in area states, a Chicago-based startup is looking to affiliate marketing to help with that.  Essentially, the school and parents go through All For Schools when shopping online, and a percentage of their purchase is returned to the school.
It's really quite simple.  For example, if you spend $100 at Best Buy going through the All For Schools Program, Best Buy on average will give back 3.2% of your purchase, or $3.20.  Then, All For Schools will provide around 60% of that $3.20 (or $1.92) to your school.
It works the same as other cash back problems, except in this case the cash back is going to help an area school.  And, while that $1.92 may not sound like much, the more who use the program the more that amount will grow.  Plus, every little bit helps.  Laurel Rundle, All For School's CEO, shared with me their inspiration, how it works, and where they're going in 2014.
Caryn: Why start All For Schools? What was the inspiration? ? 
Laurel: For more than 20 years, we have worked to connect parents, schools and ?major brands. Across the country we encountered schools looking for ways to raise funds and parents looking for ways to support their children's ?education. We realized that we could leverage our connections to the retail ?world by adapting affiliate marketing programs for use in schools, making ?fundraising easy, accessible and rewarding.
C: What are your goals for the program? Can you make a difference?
L: There are many ways that parents are already making a difference at their schools, from volunteering to collecting box tops. Parents see AFS as an ?innovative new way to bolster their efforts to support their children's ?schools. We're on schedule to make All for Schools the go-to fundraising ?tool for schools in Wisconsin, Illinois and Kentucky in the next few?months. Our plan is to be national by the end of 2014.
C: What differences do you see between the education system in Wisconsin vs. Illinois? (i.e. IL public schools are funded by property ?tax, which means depending on where you live the opportunities available to ?students are vastly different.) ??
L: From a funding perspective, they face separate challenges. Studies have shown that public school funding in Illinois is regressive: lower income school districts receive significantly less, proportionally, than districts in more affluent areas. And Wisconsin's school budget cuts since the recession have been among the deepest in the nation. So schools in both have a real need to raise supplemental funds.  But, the key reason we chose to launch in Illinois and Wisconsin is that they ?both offer a diversity of educational institutions and demographic profiles ?that will allow us to develop a robust picture of how AFS is being used by parents and schools.
C: So, how does it work?
L: ??AFS is a platform meant to centralize a school's fundraising efforts. The ?value proposition is that schools can direct parents and community members to a single page for all of their fundraising needs. AFS can organize ?campaigns with our retail partners as well as process direct donations. AFS has a growing list of more than 30 retail partners who offer a range of ?commissions between four and 10 percent. AFS is committed to passing a ?minimum of 60 percent of all commissions earned to schools. Our belief is that we can maintain these high commission levels by driving scale, and plan to be in 40,000 schools within the next 12 months.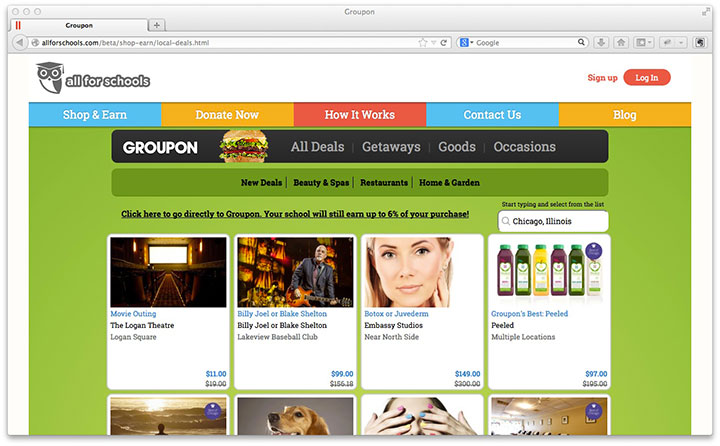 C: What's next for All for Schools?
L: By the end of 2014 our plan is to be available to schools nationwide. We are continuing to introduce new features to our portal that will make AFS a one-stop-shop for schools looking to create, conduct and manage fundraising ?campaigns.