There aren't many things I love more than a really cool gadget… Except maybe when it's a gadget for athletes.   Today, you can find all kinds of great wearables to track your performance, like Fitbit or the Nike+ FuelBand.  Well athletes, you can take the next step in wearables thanks to a new Indiegogo campaign that launched yesterday.  The product is called SmartMio, and it can help boost your sports performance in a way that other gadgets cannot.
According to its founders, SmartMio is the first EMS device on the market that is controlled through a mobile phone, and it's affordable with a retail price of only $149.  If you're an athlete, you're likely familiar with EMS, or electrical muscle stimulation.   It's been used for decades to help boost sports performance because of its ability to completely isolate certain muscle groups.
When I was growing up, I mainly used EMS for sports injuries, but it can also be used during training and has been used quite prevalently in European countries for this purpose.  Studies have shown impressive performance increases in athletes by using the technology, including 14% higher squat jumps and 17% higher counter movement jumps for basketball players after 8 weeks of EMS training.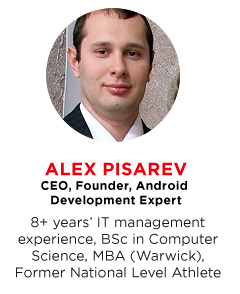 "It started with my father," explained Alex Pisarev, CEO and founder of SmartMio on how he came up with the idea.  "He has years of experience building medical technologies for various institutions, like customized medical devices as well as for private individuals starting from cardiographs going to x-ray devices."
His father, Dr. Vladimir Pisarev, has 35 years of medical device engineering experience with a PhD in biophysics and MSc in biology and electronics engineering.  He showed Alex a device he had developed, a very small, EMS device that used a USB connection to charge itself and control it through a PC program.  "So, I proposed him to make it completely wireless and make it wearable in fact with Bluetooth technology," said Alex.  "I was developing applications for Android, so I put together a test application to communicate with the device and that's how we built the first SmartMio prototype."
Now, there are some other EMS technology-based products, like those ab belts you see on television promising 6-pack abs while sitting on your coach.  Alex called them "sofa gyms."  That's not what SmartMio is looking to do.  In fact, their Indiegogo prominently displays a warning that it is not a gym replacement. However, it's an affordable option to give your muscles that extra boost to recover faster and deliver better results for the same effort.

"It's very popular among triathletes and distance runners and even team sports in Europe," said Alex.  "It's a bit more popular in Europe, actually."  But, that's something the team at SmartMio would like to change.  They're working hard to make their product affordable and easy to use, making sure the interface is intuitive and allows athletes to use the product right away.  "It's not like you can go into any store and buy a sports EMS," said Alex.  "This is actually why we have SmartMio and why SmartMio is better and more convenient than other devices for athletes. It has a very friendly user interface."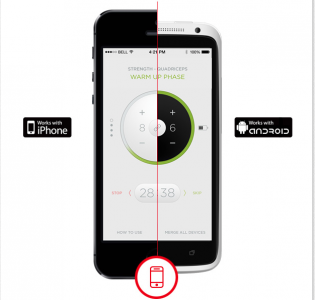 Alex is a former national athlete, competing in the junior championships for power lifting.  He used EMS quite extensively during his career, so he's personally familiar with the concept and its results.  The product appears to be quite impressive as you can see from their video above and the activity they're already seeing on their campaign further supports that.
After just one day, they're already halfway to their funding goal on Indiegogo. They have several great incentives for supporting their campaign, too.   Check it out for yourself.  They have an estimated shipping date of November, and for all the athletes out there, this could have the potential to be the best investment you'll make this year.
And if all of that doesn't convince you, they're also going to be testing out their product on Mount Everest this April.  "There's an expedition that's happening in early April and the guy who leads the expedition has agreed to take SmartMio with him," said Filipp Almakov, COO and CMO at SmartMio.  "We're putting SmartMio under extreme conditions to see how it performs.  This is something that's going to prove how effective SmartMio can be."
You can follow along on the trek through their Indiegogo page as well as on Twitter here.  They will be documenting their trip on social media during the climb, so if nothing else, tune in for some truly spectacular photos of Mount Everest.